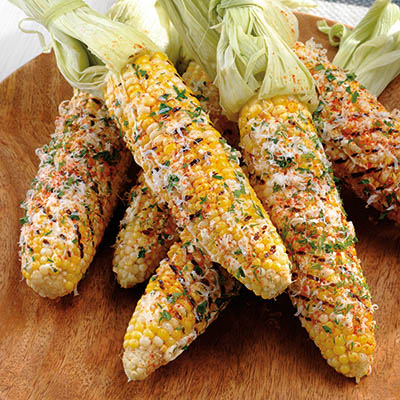 CHILLIWACK CORN ON THE COB WITH HERB LEMON BUTTER
Ingredients
Serves 4
6 tbsp (90 ml) butter, softened
2 tbsp (30 ml) chopped mixed herbs (parsley, chives, tarragon and mint)
2 tbsp (30 ml) grated Parmesan
1 pinch smoked paprika or cayenne pepper (optional), or to taste
Instructions
Clean corn cobs by pulling husks of corn back, but do not remove. Remove and discard silk under husks. Tie the husks together with another piece of husk.
In a small bowl, mix together butter, herbs, lemon zest and salt. Set aside.
Bring a pot of salted water to a boil. Once boiling, blanch corn cobs for 2 minutes, by holding husk and dipping just corn cob in.
Preheat grill to medium-high. Wrap husks in foil to prevent burning and grill corn until golden on all sides, about 5 to 8 minutes total.
Spread herb butter all over corn cobs and sprinkle with Parmesan, smoked paprika and extra herbs (if desired) before serving.
Drink Pairings