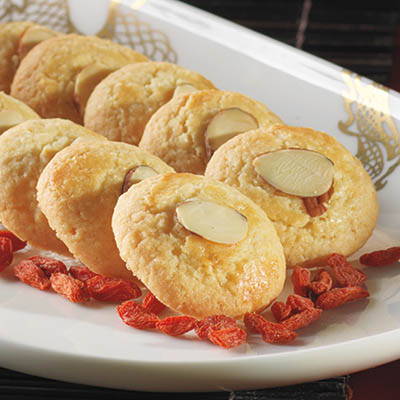 Ingredients
Serves 3 dozen
1¾ cups (425 ml) all-purpose flour
1 cup (250 ml) granulated sugar
½ tsp (2 ml) baking powder
1 cup (250 ml) butter, at room temperature
1 ⅓ cups (325 ml) ground almonds
1 tsp (5 ml) almond extract
½ cup (125 ml) sliced almonds
Instructions
In a bowl, combine flour, sugar and baking powder. Stir to blend. Set aside.
Combine butter, almonds and salt in bowl of an electric stand mixer. Beat with a paddle attachment until blended. Beat in egg and almond extract just until combined.
Slowly beat in flour mixture until smooth. Transfer dough to a large sheet of plastic wrap. Tightly seal and refrigerate for 2 hours or until chilled and firm. Dough can be refrigerated for up to 3 days.
When ready to bake, preheat oven to 325 F (170 C). Line 2 baking sheets with parchment paper.
Roll dough into ½-in (1.25 cm) balls and place 1-in (2.5 cm) apart on prepared baking sheets. Flatten balls slightly with the bottom of a glass or the tines of a fork. Brush with egg white and place an almond slice on each cookie before baking.
Bake for 12 to 15 minutes or until light golden and crisp around edges.
Drink Pairings