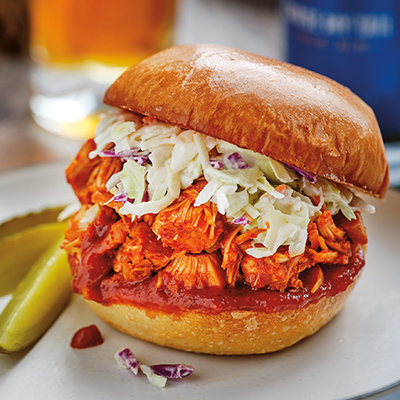 CHIPOTLE BARBECUE JACKFRUIT SANDWICH
Ingredients
Serves 4
1 cup (250 ml) white vinegar
5 canned chipotle peppers, or to taste
1 tbsp (15 ml) Worcestershire sauce (optional; omit if vegetarian)
½ tbsp (7 ml) onion powder
2 x 16 oz (500 ml) cans jackfruit
1 tbsp (15 ml) grapeseed oil
4 garlic cloves, minced, divided
¼ cup (60 ml) mayonnaise or vegannaise
1 tbsp (15 ml) apple cider vinegar
½ tsp (2.5 ml) maple syrup
4 cups (1 L) coleslaw mix
2 tbsp (30 ml) butter or margarine, softened
4 pickles, sliced, to serve
Instructions
To make chipotle barbecue sauce, in a medium saucepan over medium-high heat, combine ketchup, white vinegar, chipotles, molasses, Worcestershire sauce, onion powder and salt and bring to a simmer, then reduce heat to medium-low. Cook, stirring occasionally, for 6 to 8 minutes. Allow to cool slightly, then transfer to a blender and blend until smooth.
Drain jackfruit and rinse thoroughly in warm water. Cut out cores, then gently break apart with fingers or slice along the grain into ⅛-in (0.25 cm) strips.
In a large skillet over medium-high heat, heat oil. Add 3 minced garlic cloves and jackfruit. Sauté for 3 to 5 minutes, stirring occasionally. Stir in 1 to 2 cups (250 to 500 ml) barbecue sauce, as desired. Reserve any remaining sauce for serving; it will also keep in an airtight container in refrigerator for up to 1 week.
Reduce heat to low and add ¼ cup (60 ml) water. Using back of a wooden spoon or a fork, gently break apart jackfruit to create a shredded texture. Continue to cook until sauce has thickened and jackfruit is the texture of pulled pork. Remove from heat.
In a large bowl, mix together mayonnaise or vegannaise, apple cider vinegar and maple syrup. Add coleslaw mix and toss to coat.
In a small bowl, mix butter or margarine with remaining minced garlic clove. Spread evenly inside burger buns.
In a large skillet over medium-high heat, toast insides of buns, about 2 minutes, or until golden brown.
To assemble, reheat jackfruit, if needed. Place a large scoop of jackfruit in each bun, adding more barbecue sauce, if desired. Top burgers with coleslaw and serve with sliced pickles.
Drink Pairings