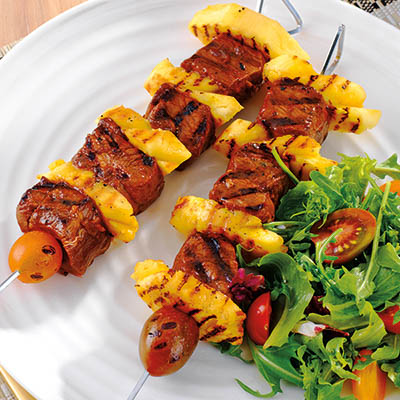 CHIPOTLE BOURBON-MARINATED BEEF AND PINEAPPLE SKEWERS
Ingredients
Serves 4 to 5 (makes 8 skewers)
¼ cup (60 ml) vegetable oil, divided
1 small onion, finely chopped
3 garlic cloves, finely minced
½ cup (125 ml) bourbon, divided
3 tbsp (45 ml) apple cider vinegar
1 tbsp (15 ml) honey or agave syrup
1 chipotle chili, chopped, along with some adobo sauce, to taste
kosher salt and pepper, to taste
2 lbs (1 kg) thick-cut sirloin steak, about 1½-in (3.75 cm) thick, cut into 1½-in (3.75 cm) cubes
1 medium red pepper, cored and cut into 2-in (5 cm) chunks
½ pineapple, cored and cut into 2-in (5 cm) chunks
8 to 16 heirloom cherry tomatoes
8 x 8-in (20 cm) skewers, if using wooden, soak overnight in water
Instructions
In a medium saucepan over medium heat, heat half the vegetable oil, add onion and garlic, sauté until softened, about 5 minutes. Stir in ketchup, half the bourbon, vinegar, molasses, honey or agave syrup, chipotle, thyme and cayenne. For more heat and smoky flavour, add adobo sauce. Remove ¼ cup (60 ml) of the mixture and place into mixing bowl. Set aside.
Simmer remaining mixture over low heat, until thickened, about 40 minutes. Transfer to a blender and carefully process until smooth. Season with salt and pepper.
Whisk reserved sauce with remaining vegetable oil and bourbon until blended. Add cubed beef and mix well. Transfer the whole mixture to a resealable plastic bag, seal and place into a shallow baking dish. Marinate at room temperature for at least 1 hour, turning bag occasionally, or refrigerate up to 1 day. This marinade can also be used for chicken or pork.
Remove beef pieces, discard excess marinade. On the skewers, alternately thread beef with pineapple and cherry tomatoes. Place on a preheated charcoal or gas grill over medium-high heat. Grill for 8 to 10 minutes or until cooked to desired doneness, turning once.
Drink Pairings