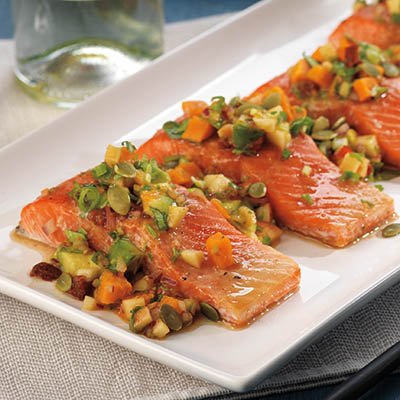 CHIPOTLE MAPLE-SEARED SALMON WITH AVOCADO-APPLE CHUTNEY
Ingredients
Serves 4
1 medium-sized jewel yam, cooked but still firm, peeled and diced
1 ripe, but firm Haas avocado, peeled, pitted and diced
1 small Gala apple, unpeeled, cored and diced
¼ cup (60 ml) minced cilantro
2 tbsp (30 ml) minced red onion
2 tbsp (30 ml) lime juice
1 tbsp (15 ml) extra-virgin olive oil
2 tsp (10 ml) adobo sauce from canned chipotle peppers
salt and freshly ground black pepper, to taste
2 tbsp (30 ml) toasted pumpkin seeds, optional
CHIPOTLE MAPLE-SEARED SALMON:
2 tbsp (30 ml) extra-virgin olive oil
2 tbsp (30 ml) pure maple syrup
1 canned chipotle chili in adobo sauce
1 garlic clove, smashed and minced
½ tsp (2 ml) ground cumin
generous pinches salt and pepper, to taste
4 x 4 oz (125 g) salmon fillets, skin on
Instructions
To make AVOCADO-APPLE CHUTNEY: In a large bowl, combine cooked yam, avocado, apple, cilantro and onion. Gently toss.
In a small bowl, combine juice, oil and adobo sauce. Stir to blend. Drizzle over yam mixture. Gently toss to coat. Add seasonings to taste. Sprinkle with pumpkin seeds. Cover and refrigerate while preparing salmon.
To make CHIPOTLE MAPLE-SEARED SALMON: Preheat oven to 275 F (140 C). Line a baking sheet with parchment paper and set aside.
Combine olive oil, maple syrup, chipotle, lime juice and zest, garlic, cumin, salt and pepper in a small blender and whirl until smooth.
Place salmon fillets 1-in (2.5 cm) apart on prepared baking sheet and dollop with chipotle mixture. Gently spread to coat. Bake in oven for 15 minutes or until fish flakes easily with a fork and is almost opaque in the centre.
Remove and let rest for a couple of minutes. Serve with Avocado-Apple Chutney spread over top. Excellent with potatoes, rice or quinoa.
Drink Pairings