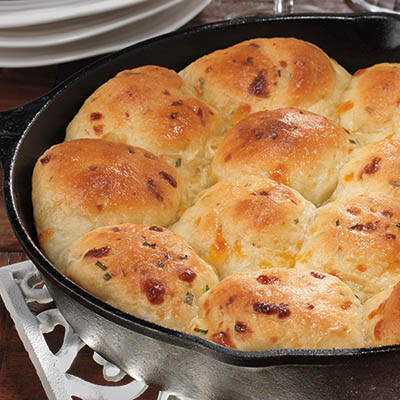 CHIVE AND CHEESE POTATO BREAD
Ingredients
Serves 18 to 20 rolls, or r1 large loaf
1 cup (250 ml) full fat sour cream or plain Greek yogurt
1 cup (250 ml) plain mashed potato
2 tsp (10 ml) instant yeast
3 to 3½ cups (750 to 875 ml) bread flour or all-purpose flour
1½ cups (375 ml) shredded sharp cheddar cheese
½ to ¾ cup (125 to 175 ml) finely chopped
Instructions
In a large mixing bowl, combine all ingredients except cheese and chives, starting with 2½ cups (625 ml) flour and slowly adding more flour, mixing until it becomes cohesive and smooth and starts to form a ball. You may not use all the flour depending on the moisture of the mashed potatoes. Add the cheese and chives and knead dough by hand or with an electric blender fitted with a dough hook, about 5 to 10 minutes. Dough should be smooth, fairly elastic, soft and sticky.
Place dough in a greased bowl, cover with a clean tea towel and allow to rise for 60 to 90 minutes, until very puffy.
To make dinner rolls, divide dough into 18 to 20 pieces. Shape each piece into a ball and place into a lightly greased 9 x 13-in (23 x 33 cm) baking dish, or two 8-in (20 cm) or 9-in (23 cm) round ovenproof skillets. Cover with a clean tea towel and allow rolls to rise until touching each other and puffy, about 1 hour.
Alternatively, to make a large bread loaf, shape dough into a log and place in a lightly greased 9 x 5-in (23 x 12 cm) loaf pan. Cover with a clean tea towel and allow to rise about an hour, or until top of loaf is about 1-in (2.5 cm) over rim of pan.
Preheat oven to 350 F (180 C).
Bake rolls for 22 to 27 minutes or until light brown. Loaf will bake for about 35 to 40 minutes, tenting it lightly with foil for final 10 minutes.
Remove rolls or loaf from oven and brush with melted butter, if desired, for a softer, rich crust. Transfer to a rack to cool.
Drink Pairings