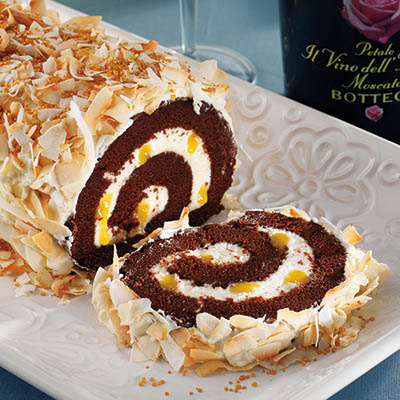 CHOCOLATE, MANDARIN AND COCONUT ROULADE
Ingredients
Serves 10
3 oz (90 g) dark chocolate
6 tbsp (90 ml) unsalted butter
1 cup (250 ml) granulated sugar
1 tsp (5 ml) vanilla extract
4 large eggs, at room temperature
1 cup (250 ml) all purpose flour, divided
1 cup (250 ml) icing sugar, divided
1 cup (250 ml) mascarpone cheese
1 ⅔ cups (400 ml) whipping cream
3 tbsp + 1 tsp (50 ml) Malibu Coconut Rum, optional
2½ cups (625 ml) coconut ribbons, toasted, for garnish
edible gold glitter, optional, for garnish
½ cup (125 ml) freshly squeezed mandarin juice
⅓ cup (75 ml) granulated sugar
finely grated zest of two mandarins
¼ cup (60 ml) cold unsalted butter, cut into pieces
Instructions
Preheat oven to 350 F (180C). Grease a 15 x 10-in (38 x 25 cm) rimmed baking sheet with vegetable oil or butter. Line with parchment, then grease parchment too.
Place chocolate and butter in a heatproof bowl and place it over a pan of gently simmering water. Do not let bottom of the bowl touch the water. Stir together chocolate and butter until melted and well combined. Remove from heat and stir in sugar and vanilla extract.
In a large bowl, whisk together eggs with a hand beater on high speed until thickened and pale, about 3 minutes. Add chocolate mixture and continue to beat until well incorporated. Beat in ¼ cup (60 ml) flour and baking soda until just blended. Add remaining ¾ cups (175 ml) flour in three additions, alternating with water in two additions. Beat well after each addition. Spread into prepared pan and bake until cake springs back when touched, about 15 minutes. Immediately sprinkle entire surface of cake with ¼ cup (60 ml) icing sugar and invert cake onto a clean kitchen towel. Remove pan and discard baking paper. Starting at one short side, roll up cake and towel together, then allow to cool to room temperature on a wire rack.
Whip together mascarpone, cream, Malibu (if using) and remaining ¾ cups (175 ml) icing sugar until just holding stiff peaks.
Carefully unroll cake. Don't worry if it cracks slightly in places. Spread half cream mixture over surface, leaving a border of about 1-in (2.5 cm) all around edge. Using a small spoon, carve troughs in filling every couple of inches and fill each with mandarin curd. Re-roll cake around filling, using towel if needed, and place, seam-side down, on a serving platter. Spread remaining cream over outside before pressing coconut flakes all over top and sides. Garnish with a dusting of gold glitter (if using). Chill for at least 1 hour and up to 3 hours before serving.
To make MANDARIN CURD: In a small saucepan, bring juice to a rapid simmer over medium-high heat. Allow to reduce to ¼ cup (60 ml) of liquid. This should take 4 minutes. Transfer juice to a measuring cup to cool to room temperature.
In same small saucepan whisk together sugar, egg yolks, mandarin zest and reduced juice. Set over medium heat and cook, stirring constantly, until sugar has dissolved and mixture coats back of a spoon, about 5 minutes. Remove from heat and whisk in butter until melted and well incorporated. 3 Strain mandarin curd into bowl and cover with plastic wrap, pressing wrap into surface of curd to prevent skin from forming. Cool to room temperature. Refrigerate until ready to use.
Drink Pairings