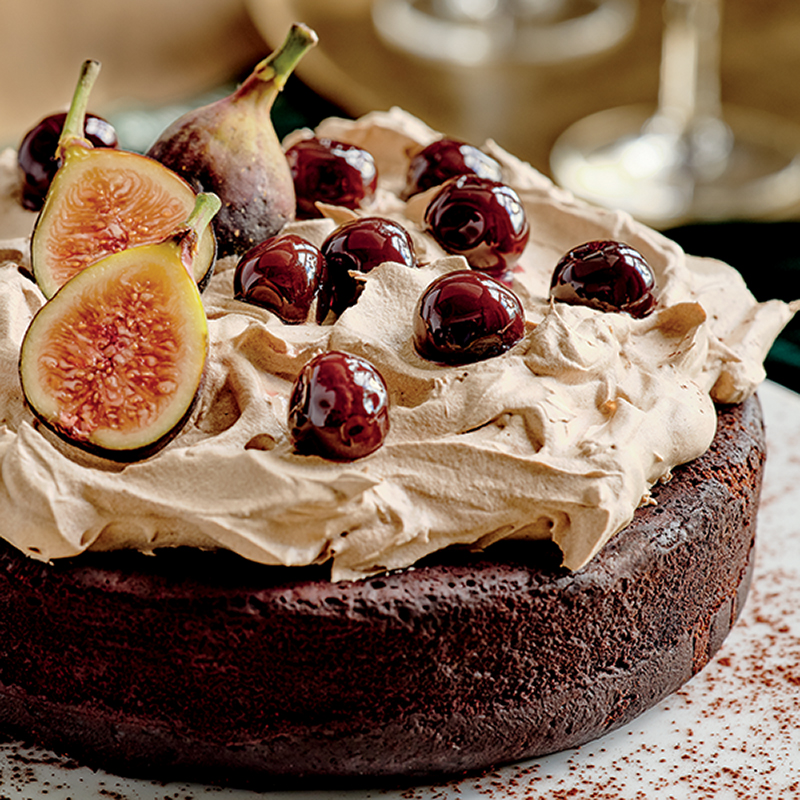 Ingredients
Serves one 6" (15cm) cake
½ cup (125 ml) Montenegro Amaro
½ cup (125 ml) granulated sugar
⅓ cup + 1 tbsp (90 ml) brown sugar
¼ cup (60 ml) Grand Marnier
2 tbsp (30 ml) syrup from Amarena cherries
¼ cup + 2 tbsp (90 ml) unsalted butter, cubed
¼ cup + 2 tbsp (90 ml) best-quality unsweetened cocoa powder, sifted
2 medium eggs, lightly beaten
2 tsp (10 ml) pure vanilla extract, divided
1 cup (250 ml) all-purpose flour
½ tsp (2.5 ml) fine sea salt
¼ lb (125 g) bittersweet chocolate, finely chopped
½ cup (125 ml) pitted Amarena cherries, coarsely chopped, plus extra whole cherries, to serve
¾ cup (175 ml) pecans, toasted, roughly chopped
¾ cup (175 ml) whipping cream
¼ lb (125 g) best-quality milk chocolate
Instructions
In a medium saucepan, combine Amaro and both sugars. Over medium-low heat, stir mixture until sugar dissolves, about 2 minutes. Add Grand Marnier, cherry syrup, water, butter and cocoa powder. Mix well to combine and cook until butter is melted, stirring occasionally, until mixture is completely smooth, about 4 minutes. Remove from heat and let cool completely, then whisk in eggs and 1 tsp (5 ml) vanilla.
Preheat oven to 350 F (180 C). Butter a 6-in (15 cm) round cake pan and set aside. In a medium bowl, combine flour, baking soda and bittersweet chocolate. Pour cooled cocoa mixture over flour mixture and whisk until completely smooth. Stir in cherries and pecans, then pour batter into pan. Transfer to oven and bake for 30 to 35 minutes, or until a cake tester placed into centre of cake comes out clean; cake should be just set, not dry. Transfer to a cooling rack and let cool completely before removing from pan.
Meanwhile, make whipped cream. In a small saucepan, bring cream just to a boil over high heat, watching carefully. Immediately remove from heat and add milk chocolate. Stir until chocolate is melted and completely smooth, add remaining 1 tsp (5 ml) vanilla and transfer to a medium bowl. Cover well and refrigerate until cold, about 1 hour.
When ready to serve, remove cream from refrigerator. Using a hand-held mixer, whip until soft peaks form. Place cake on a serving platter and dollop whipped cream over top of cooled cake. Garnish with figs and cherries, slice into thin wedges and serve.
Drink Pairings