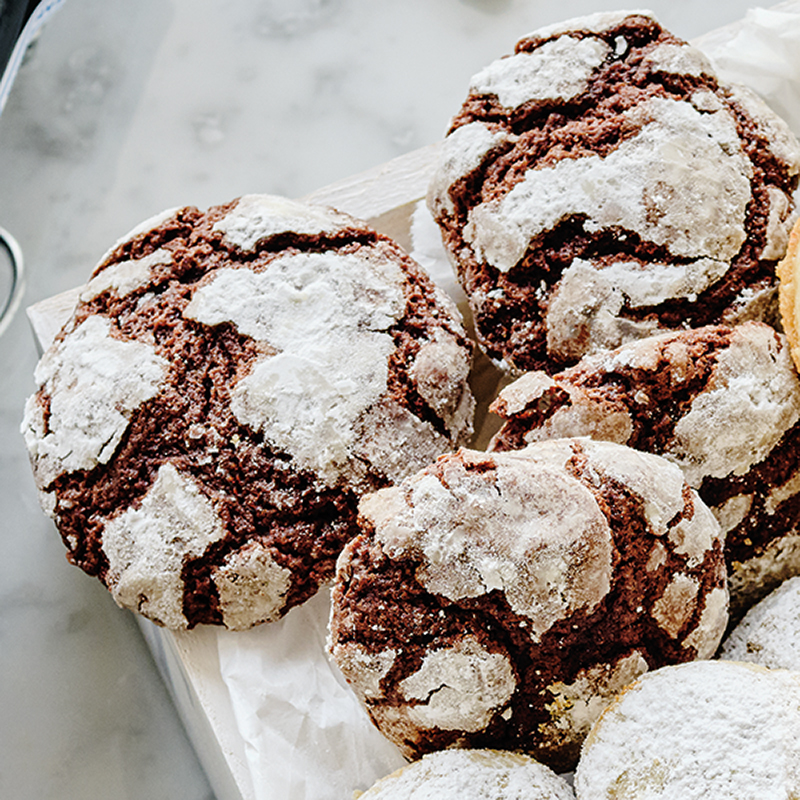 CHOCOLATE CRINKLE COOKIES
How about a Do-It-Yourself gift box? Fill your gift boxes with some homemade delicious treats. It's a gift you can make, pack, pair and share!
Ingredients
Serves 18 - 20 cookies
½ cup (125 ml) sunflower oil
2 tsp (10 ml) vanilla extract
½ cup (125 ml) cocoa powder, sifted
1 cup (250 ml) granulated sugar
1 tsp (5 ml) baking powder
½ cup (125 ml) chocolate chips
1 cup (250 ml) icing sugar
Instructions
In a large mixing bowl, use an electric hand mixer to beat eggs, oil, vanilla, cocoa powder and granulated sugar until combined, about 2 minutes.
In a separate bowl, whisk together flour, baking powder and salt. Add dry ingredients to wet ingredients and, using a spatula, stir to combine. Once mixture has formed a dough, mix in chocolate chips. Wrap dough tightly with plastic wrap and refrigerate for 3 hours.
Preheat oven to 350 F (180 C). Line 2 baking sheets with parchment paper.
Remove dough from refrigerator and roll into 1-in (2.5 cm) balls (roughly the size of a golf ball). Place icing sugar on a plate and roll each ball in it to generously coat. Place 6 to 8 cookies on each baking sheet, leaving space between. Bake until cooked through, about 10 to 12 minutes. Allow to cool for 15 minutes. Store in an airtight container for up to 4 days.
Drink Pairings