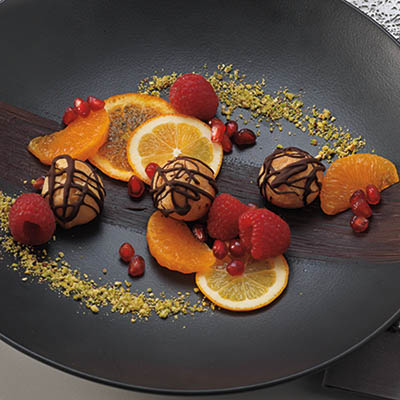 CHOCOLATE DRIZZLED CHOUX PUFFS WITH BLOOD ORANGE CUSTARD
Ingredients
Serves about 2 dozen pastries
¼ cup (50 ml) fine berry sugar
2 tbsp (30 ml) cornstarch
1 cup (250 ml) whole milk
1 tbsp (15 ml) unsalted butter
¼ tsp (1 ml) blood orange flavouring
CHOCOLATE DRIZZLED CHOUX PUFFS:
⅓ cup (75 ml) unsalted butter, diced
2 tsp (10 ml) granulated sugar
½ cup + 3 tbsp (125 + 45 ml) all-purpose flour, spooned and leveled
2 large eggs and 1 large egg white, whisked together
2 oz (60 g) bittersweet dark chocolate, divided
½ cup (125 ml) fresh raspberries
½ cup (125 ml) mandarin orange slices
½ small navel orange, thinly sliced into rounds
1 Meyer lemon, thinly sliced into rounds
⅓ cup (75 ml) pomegranate seeds
tbsp (30 ml) finely chopped pistachios
Instructions
To make BLOOD ORANGE CUSTARD: In a saucepan, whisk together sugar, cornstarch and salt. Separately, whisk milk and egg yolks, then whisk into sugar mixture and cook over medium heat, whisking steadily, until mixture reaches a simmer. Whisk in butter.
Continue to cook, stirring until mixture reaches a gentle boil. Boil for 1 minute, stirring constantly, until mixture thickly coats a metal spoon. Remove from heat, stir in vanilla and orange flavouring. Strain mixture through a fine-meshed sieve into a bowl. Cover surface with plastic wrap and refrigerate for 2 hours or overnight.
To make CHOCOLATE DRIZZLED CHOUX PUFFS: Preheat oven to 425 F (220 C). Line baking sheet with parchment paper and set aside. In a medium-sized saucepan, combine water, butter, sugar and salt and bring to a boil over medium heat. Remove from heat to blend in flour. Return to heat, continue stirring vigorously over medium heat until mixture begins to pull away from sides of pan and forms a ball. Dough should be shiny, glossy and firm enough for a spoon to stand upright when inserted.
Transfer dough to mixer. Gently beat until cooled. On low speed, add half the whisked eggs, mixing fully before adding more. You may not need all the egg mixture. Dough should have a glossy sheen and be firm enough to pipe into small rounds. Spoon dough into piping bag fitted with a large tip. Pipe little rounds about the size of a tbsp (15 ml) spaced evenly apart onto prepared baking sheets.
Bake in oven for 12 to 15 minutes. Dough should be nicely puffed. Do not open oven during baking or Puffs will fall. Reduce heat to 375 F (190 C), continue baking for 18 to 20 minutes, or until they can be easily removed from baking sheet. Poke each puff with a toothpick to release steam. Turn off oven and return Choux Puffs to oven to dry out as oven cools, about 1 hour. Can refrigerate for up to 3 days, or freeze for longer storage.
When ready to serve, transfer custard to pastry bag fitted with an ⅛-in (.5 cm) round tip. Poke a small hole in the side of Choux Puff and pipe with Blood Orange Custard.
When all Puffs are filled, heat chocolate in microwave until almost melted. Remove and stir. Drizzle over Choux Puffs.
To serve, using a pastry brush, sweep a strip of melted chocolate down centre of each serving plate. As soon as it firms, arrange a few Choux Puffs along with fresh fruit and chopped pistachios.
Drink Pairings