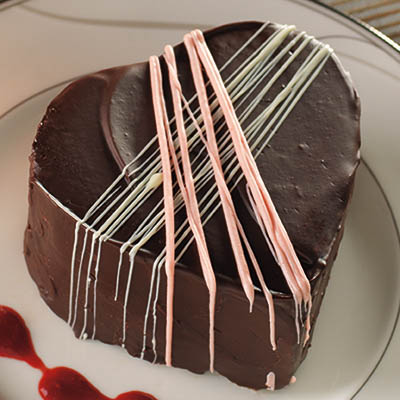 CHOCOLATE GANACHE HEART CAKES WITH RASPBERRY CREAM
Ingredients
Serves 4 to 6 small heart shaped cakes
1 cup (250 ml) frozen or fresh raspberries
1 tbsp (15 ml) granulated sugar
½ tbsp (7 ml) framboise or orange liqueur
HEART CAKES AND RASPBERRY GANACHE:
1 box Chocolate Devil's Food Cake
½ cup (125 ml) brewed, hot coffee
3 tbsp (45 ml) granulated sugar
2 tbsp (30 ml) rum or brandy
1 cup (250 ml) whipping cream, divided
2 tbsp (30 ml) raspberry preserves
½ lb (250 g) bittersweet chocolate, finely chopped
⅔ cup (150 ml) icing sugar
1½ tbsp (22 ml) homogenized milk
Instructions
For RASPBERRY COULIS: In a saucepan, cook berries, sugar and liqueur over low heat and simmer for about 5 minutes. Using an immersion blender, purée berry mixture. Strain through a fine-mesh strainer. Set aside, covered, at room temperature for up to a day or refrigerate until ready to use.
Preheat oven to 350 F (180 C).
Prepare cake mix following manufacturer's instructions. Pour into a parchment paper-lined 10 x 15-in (25 x 38 cm) jelly roll pan. Bake for 20 minutes or until set. Cool on a rack. Can be made the day before and refrigerated.
In a bowl, mix together hot coffee, sugar and rum or brandy, until sugar has dissolved. Set aside.
Cut chilled Devil's Food Cake with a 3 or 4-in (8 or 10 cm) heart-shaped cookie cutter. Depending on size of your cutter this will make 4 to 6 two-layer cakes. Brush each layer lightly with coffee liqueur syrup.
Whip ½ cup (125 ml) cream with an electric mixer until soft peaks form. Add raspberry preserves and continue whipping until stiff peaks form. Fill a pastry bag, fitted with a ¾-in (2 cm) round pastry tip.
Pipe raspberry cream over half the heart-shaped cakes. Top each with a layer of cake, pressingly down lightly to sandwich. Cover with plastic wrap and refrigerate while ganache is being made.
To make GANACHE: In a heavy-bottomed saucepan, heat remaining ½ cup (125 ml) cream over medium-low heat until simmering. Remove from heat and add chopped chocolate, swirling saucepan to make sure all chocolate is covered by cream. Let sit a couple minutes, then gently whisk until smooth.
Pour about ½ cup (125 ml) of hot ganache into a shallow bowl and refrigerate for 5 minutes or until slightly firm, but still spreadable. Leave remainder of ganache in pot to keep it pourable.
With a small spatula, thinly spread refrigerated ganache over sides of cakes, filling the gap between the layers of cake, making them smooth. It is important to have a smooth surface, so there are no bumps when you pour ganache over cakes.
Set cakes on a cooling rack over a parchment paper-lined pan to catch dripping chocolate. Slowly pour ganache over each cake, starting in middle and working outward. Be sure to check sides as you go. There will be a pool of ganache on parchment. Scrape that up and melt in saucepan to use again. If ganache gets too thick, return pot to stove and heat on very low heat for a few seconds.
Allow cakes to set at room temperature, about 20 minutes.
For ICING SUGAR GLAZE: Combine sugar and milk in a small bowl. Stir until smooth. If too thick, add a bit more milk. If too thin, add more icing sugar. Mixture should be slightly runny. Add a small drop of colouring, to achieve pink or red colour. Transfer glaze into a piping bag with small nozzle attachment and drizzle quickly across top of the Ganache Heart Cakes to form a design. Refrigerate until ready to serve.
To serve, place ganache cake on serving plate and drizzle raspberry coulis on or around cake.
Drink Pairings