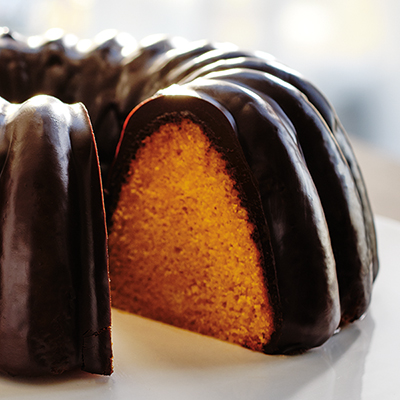 Chocolate-Glazed Carrot Bundt Cake
Ingredients
Serves 12
2 cups (500 ml) carrots, scrubbed, but not peeled, and cut into ½-in (1.25 cm) pieces
¾ cup (175 ml) grapeseed oil
1 tbsp (15 ml) vanilla extract
1¾ cups (425 ml) granulated sugar
1¾ cups + 2 tbsp (455 ml) all-purpose flour
1½ tsp (7 ml) baking powder
¼ tsp (1 ml) ground cinnamon
6 oz (170 g) bittersweet chocolate
1 tsp (5 ml) clover or light-coloured honey
7 tbsp (105 ml) unsalted butter, cut into chunks
Instructions
Place oven rack in centre of oven, then preheat to 425 F (220 C). Generously butter a 10-cup (2.35 L) Bundt pan, then dust with flour, tapping out excess. Set aside.
In a blender, combine carrots, oil, vanilla, eggs and sugar and blend until completely smooth. Transfer mixture to a large bowl and sift flour, baking powder, cinnamon and salt over top. With a spatula, fold dry ingredients into carrot mixture until no traces of flour remain. Pour batter into prepared Bundt pan and bake for 5 minutes. Lower oven temperature to 400 F (200 C) and continue to bake until a toothpick inserted in centre comes out clean, about 30 minutes. Allow cake to cool in pan on a wire rack for 10 minutes, then turn out onto wire rack set over a rimmed baking sheet to cool completely.
Once cake has cooled, make chocolate glaze. Set a heatproof bowl over a saucepan filled with 1-in (2.5 cm) of water. Add chocolate, honey and butter to bowl, then place saucepan and bowl over medium heat and bring water to a simmer. Stir chocolate mixture occasionally with a spatula until glaze is uniform and smooth, about 10 minutes.
Pour glaze over cake, coating it and allowing excess glaze to drip off onto baking sheet. Allow glaze to set for at least 20 minutes before slicing and serving. Leftover cake will keep in an airtight container at room temperature for up to 2 days.
Drink Pairings