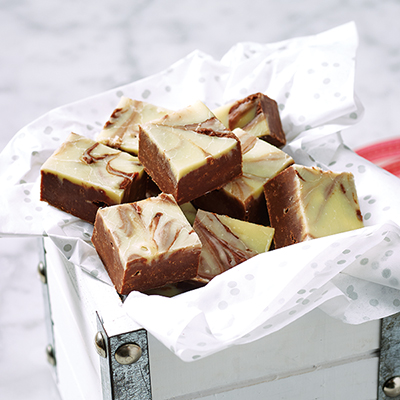 Ingredients
Serves 10 to 12
2 cups (500 g) semi-sweet dark chocolate chips
1 cup (250 g) white chocolate chips
¾ cup (175 ml) condensed milk
½ cup (125 ml) evaporated milk
1 tsp (5 ml) vanilla extract
Instructions
Using 2 microwave-safe bowls, place dark chocolate chips in 1 bowl and white chocolate chips in other. Pour condensed milk over dark chocolate chips and microwave at 30-second intervals, stirring occasionally. Repeat with evaporated milk for white chocolate.
Once both mixtures have melted and are silky smooth, add vanilla to dark chocolate and stir.
Pour each mixture, one at a time, into a lined 9-in (23 cm) square pan. Using a toothpick, swirl mixture around to create patterns with different colours of fudge.
Refrigerate for at least 4 hours. Can be stored in refrigerator for up to 1 week or freeze for up to 1 month.
Drink Pairings