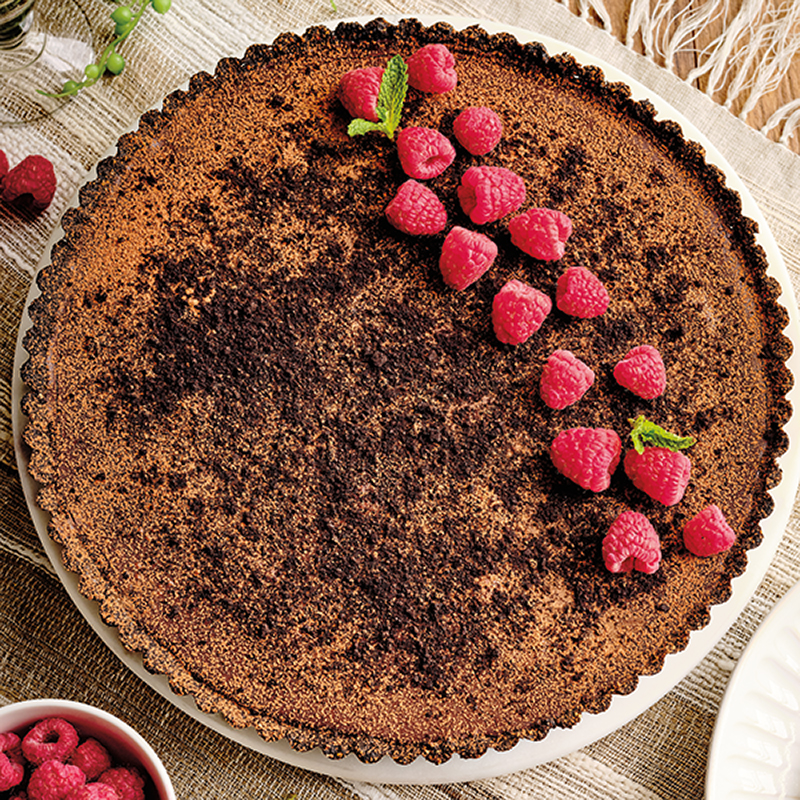 Chocolate Raspberry Truffle Tart
Ingredients
Serves 8 to 10
1⅔ cups (400 ml) chocolate wafers
½ cup (125 ml) lightly roasted hazelnuts, peeled
½ cup (125 ml) unsalted butter, melted
2 generous cups (about 500 ml) fresh raspberries, divided, plus extra for garnish
1 lb (454 g) highest-quality bittersweet chocolate (63%)
2 cups (500 ml) whipping cream
cocoa powder and ground cookie crumbs, for garnish
Instructions
To make Crust, preheat oven to 350 F (180 C). Lightly butter an 11-in (28 cm) fluted tart pan with a removable bottom. In bowl of a food processor, combine chocolate wafers, hazelnuts and salt. Process until finely ground. Add melted butter and pulse until well combined. Transfer crumb mixture to tart pan and press firmly and evenly into bottom and up sides of pan. Place pan on a baking sheet and bake for 12 to 15 minutes, or until crust is dry and set. Remove from oven and let cool completely in tart pan on baking sheet.
Meanwhile, prepare Filling. In bowl of a food processor, purée 1 cup (250 ml) raspberries until smooth. Pass through a fine mesh sieve set over a medium bowl, pressing hard on solids to extract as much liquid as possible. Discard seeds.
Combine chocolate and cream in a medium heavy-bottomed saucepan. Warm over low heat, stirring, until chocolate is completely melted and smooth, about 10 minutes. Remove from heat and let cool slightly, then whisk in raspberry purée. Scatter remaining 1 cup (250 ml) raspberries over cooled crust. Pour chocolate mixture into tart shell and smooth top with an offset spatula, making sure all raspberries are covered by chocolate. Cover tightly with plastic wrap and refrigerate overnight.
To serve, carefully remove tart from pan sides, leaving it on pan base, and garnish with a very light dusting of cocoa powder, a sprinkle of cookie crumbs and fresh raspberries. Transfer tart to a serving platter and allow to come to room temperature before slicing.
Drink Pairings