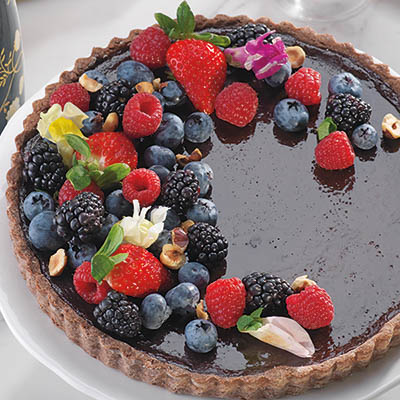 CHOCOLATE TART WITH BERRIES AND HAZELNUTS
Ingredients
Serves 8 to 10
1¾ cup (425 ml) all-purpose flour
3 tbsp (45 ml) cocoa powder
¼ cup (60 ml) white sugar
½ cup + 2 tbsp (250 ml + 30 ml) unsalted
1 cup (250 ml) whipping cream
½ cup (125 ml) whole milk
10 oz (280 g) good quality dark chocolate, chopped (not baker's chocolate)
1 tbsp (15 ml) white sugar
1 tsp (5 ml) vanilla extract
1 tsp (5 ml) Frangelico hazelnut liqueur
2 large eggs, at room temperature, beaten
2 cups (500 ml) mixed berries
¼ cup (60 ml) toasted hazelnuts, crushed
Instructions
To make TART SHELL: In bowl of a food processor, add flour, cocoa powder, sugar and salt, pulse to blend. Add butter to flour mixture and blend until mixture is crumbly. Add egg and pulse until dough comes together. Dough will stick together if pressed between fingers.
Remove dough from food processor and bring together in shape of a disc. Wrap dough in plastic wrap and rest for at least 1 hour in refrigerator, up to 3 days. When ready to bake tart shell, remove dough from refrigerator and let rest at room temperature for 1 hour.
On a floured surface, roll dough into a 12-in (30 cm) circle. Place dough in a 9-in (23 cm) tart pan with removable bottom and trim off excess dough. Place pan in freezer for 30 minutes.
Preheat oven to 375 F (190 C). Remove tart from freezer and line dough with parchment paper and fill with pie weights. Place tart pan on a baking sheet and bake dough for 25 minutes. While baking, make filling (recipe below).
Remove tart pan from oven and remove parchment and weights. Turn oven down to 325 F (170 C).
To make FILLING:In a metal bowl, combine whipping cream, milk, chocolate, sugar, salt, vanilla extract and Frangelico. Set bowl over a pot of simmering water and let sit until chocolate has melted, about 10 minutes. Whisk to combine. If chocolate is not fully melted, let mixture melt for another 5 minutes.
Remove bowl from heat and wipe bottom of bowl. Add ¼ the chocolate mixture to eggs and mix. Add tempered eggs to chocolate and whisk until combined. Pour chocolate filling into tart shell and bake for 15 to 20 minutes, or until filling is just set. Set tart aside to cool at room temperature.
Once tart is cool, garnish with berries and crushed hazelnuts.
Drink Pairings