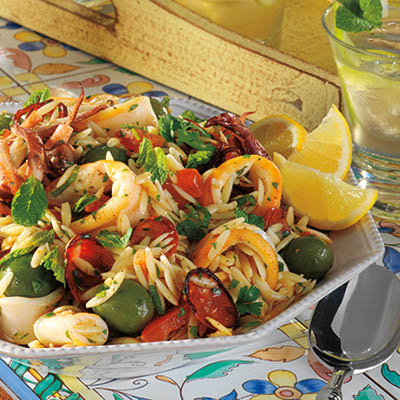 CHORIZO, CALAMARI AND ORZO PASTA SALAD
Ingredients
Serves 4 to 6
1½ cups (375 ml) orzo pasta, about 8 oz (250 g)
2 tbsp (30 ml) olive oil, divided
1 lb (500 g) small calamari, cleaned, tubes cut into ½-in (1.25 cm) rounds and tentacles trimmed
¾ lb (340 g) dried cured chorizo
½ cup (125 ml) Spanish olives
2 large ripe tomatoes, diced
¼ cup (60 ml) chopped flat leaf parsley
3 tbsp (45 ml) chopped fresh mint
2 tbsp (30 ml) chopped fresh chives
¼ cup (60 ml) extra-virgin olive oil
2 tbsp (30 ml) sherry vinegar
2 garlic cloves, smashed and minced
½ tsp (2 ml) ground cinnamon
½ tsp (2 ml) ground cumin
freshly ground black pepper
lemon wedges, for garnish
Instructions
In a large pot of boiling salted water, cook pasta for 10 minutes or just until firm and chewy. Stir occasionally to prevent sticking together. Drain and rinse under cold water, then drain thoroughly. Transfer to large bowl and stir in 1 tbsp (15 ml) oil. Set aside.
Heat 1 tbsp (15 ml) oil in large frying pan over medium heat. Add squid and cook for 3 minutes, just until cooked through. Add to cooked pasta.
Peel casing from chorizo and thinly slice sausage into rounds. Add to frying pan and lightly brown over medium heat. Remove and blot dry with paper towel. Add to cooked pasta along with olives, tomatoes and herbs. Gently toss and set aside.
For DRESSING: In a bowl, whisk together oil, vinegar, garlic, cinnamon, cumin and salt. Add a drizzle of liquid honey and black pepper, to taste.
To finish, drizzle dressing over pasta and toss to coat. Sprinkle with mint and parsley. Serve at room temperature with lemon wedges.
Drink Pairings