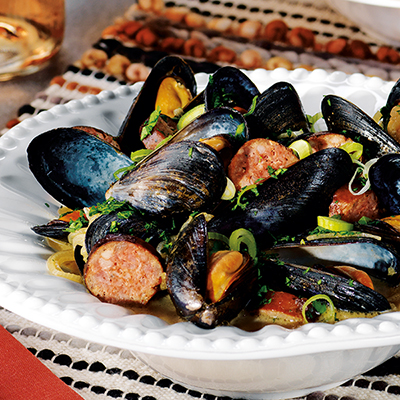 Ingredients
Serves 2
1 tbsp (15 ml) grapeseed oil
8 oz (250 g) fresh chorizo sausage
2 shallots, thinly sliced
1 tsp (5 ml) ground cumin
1 x 12 oz (355 ml) pilsner beer
2 tbsp (30 ml) unsalted butter
2 lbs (1 kg) mussels, scrubbed and debearded
kosher salt, to taste (optional)
¼ cup (60 ml) coarsely chopped flat leaf parsley leaves
1 green onion, trimmed and thinly sliced
toasted baguette slices, to serve
hot sauce, to serve (optional)
Instructions
Heat oil in a Dutch oven or large, heavy-bottomed stock pot over medium heat. Add chorizo and cook, turning occasionally, until cooked throughout, about 8 minutes. Remove from Dutch oven and slice into thin rounds. Do not clean Dutch oven. Set chorizo aside.
Set Dutch oven back over medium heat and add shallots, garlic and cumin. Cook until shallots have softened, about 10 minutes. Add beer and butter, increase heat to medium-high and bring to a boil. Cook for 1 minute to slightly reduce liquid. Add mussels, cover and cook until mussels open, about 5 to 8 minutes. Discard any mussels that do not open. Stir in cooked chorizo rounds. Season to taste with salt, if desired.
Spoon mussels into bowls. Ladle brothy chorizo mixture over top. Top with parsley and green onions. Serve hot with slices of toasted baguette and hot sauce, if desired.
Drink Pairings