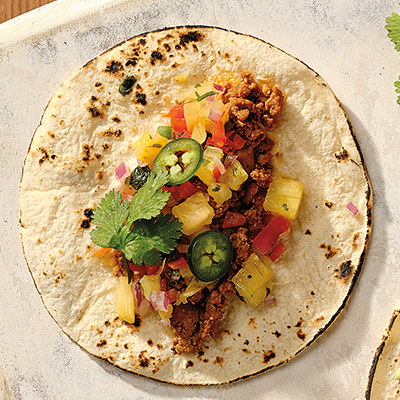 Chorizo Tacos served with Pineapple Pico de Gallo
Ingredients
Serves 8 to 10
4 chorizo sausages, casings removed
1 tsp (5 ml) chili powder
8 to 10 small corn tortillas, 4.5-in (11.25 cm) each
thinly sliced pickled red onion, radish, and/or jalapeño, as desired, for garnish
chopped cilantro, for garnish
FOR PINEAPPLE PICO DE GALLO:
¾ cup (175 ml) red pepper, finely diced
⅓ cup (75 ml) red onion, finely diced
1 cup (250 ml) pineapple, diced
¼ cup (60 ml) cilantro leaves, chopped
1 tbsp (15 ml) jalapeño, seeded and finely diced
Instructions
In a large cast iron pan over medium heat, cook chorizo, breaking up with a wooden spoon. Add paprika and chili powder and cook for 10 to 15 minutes, until chorizo is fully cooked. Remove from heat and set aside. If making ahead, refrigerate and reheat when ready to serve.
Warm corn tortillas over a grill or hot pan until pliable; otherwise they will crumble when filled. Transfer warmed tortillas to a plate and cover with a clean tea towel after each addition to keep warm.
To assemble, reheat filling, if needed. Add a heaping spoonful to middle of corn tortillas, top with Pineapple Pico de Gallo and garnish as desired.
To make Pinapple Pico de Gallo, combine all ingredients in a medium bowl. Season with salt and refrigerate until ready to use. Will keep for up to 1 week in refrigerator.
Drink Pairings