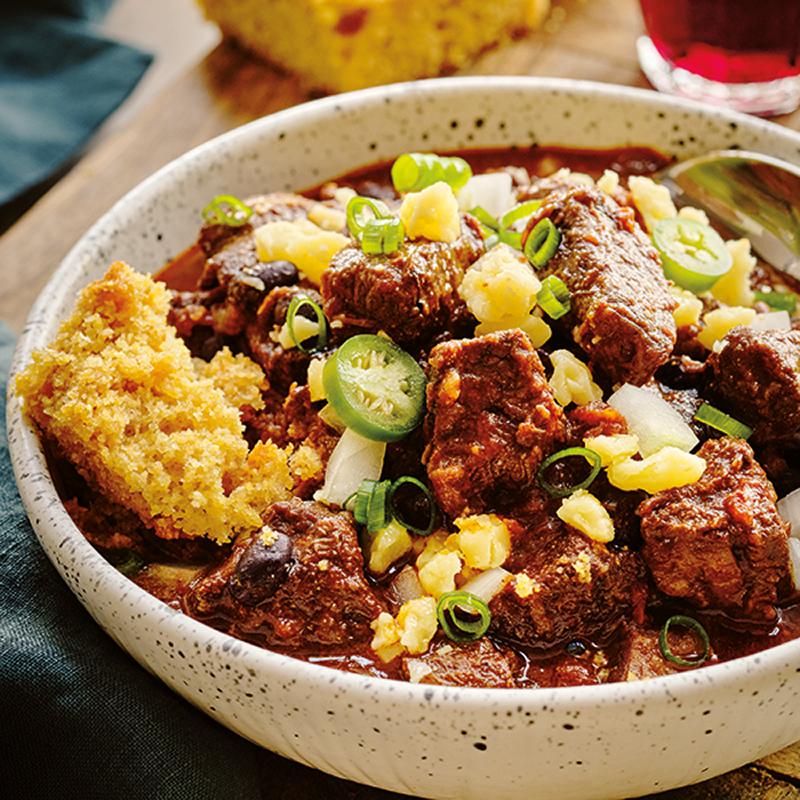 CHUNKY SHORT RIB CHILI
Relax this winter with this delicious chili recipe.
Ingredients
Serves 4 to 6
5 lbs (2.27 kg) short ribs, meat removed from bone and cut into 1-in (2.5 cm) cubes
2 tsp (10 ml) seasoning salt
1 tsp (5 ml) freshly ground black pepper
2 tbsp (30 ml) all-purpose flour
2 tbsp (30 ml) vegetable oil
2 medium yellow onions, chopped
2 tbsp (30 ml) ground cumin
2 tsp (10 ml) cocoa powder
1 tbsp (15 ml) chili powder
2 tbsp (30 ml) garlic powder
1 tbsp (15 ml) onion powder
2 tsp (10 ml) smoked paprika
1 tbsp (15 ml) diced chipotle chilis in adobo
2 tbsp (30 ml) tomato paste
1 x 28 oz (796 ml) can diced tomatoes
1 x 14 oz (398 ml) can black beans, drained and rinsed
1 small white onion, finely diced, for garnish
2 serrano peppers, finely sliced (adjust amount to taste), for garnish
4 green onions, finely sliced, for garnish
1 cup (250 ml) crumbled aged white cheddar cheese, for garnish
Instructions
Toss short rib cubes in seasoning salt, pepper and flour.
Heat a large heavy-bottomed saucepan over medium-high heat. Once hot, add oil and butter and heat until butter is melted. In batches, brown beef for about 2 to 3 minutes each side, or until golden brown. Set browned beef aside and continue with remaining beef.
Reduce heat to medium and add onions. Sweat onions until soft, then add all spices and continue cooking until fragrant, about 1 minute.
Add chipotles and tomato paste and mix. Cook until tomato paste has lightly caramelized, about 2 to 3 minutes.
Add beef, tomatoes and water and bring to a boil. Reduce heat to low and simmer for 1 hour and 30 minutes. Add black beans and simmer for another 30 to 45 minutes or until beef is tender.
Serve in bowls and garnish with white onion, serrano peppers, green onion and cheese. Serve with cornbread.
Drink Pairings