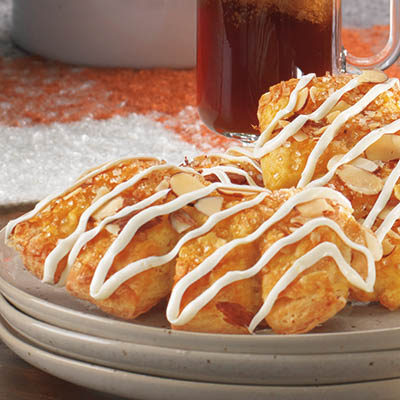 CINNAMON-SPICED BEAR PAWS
Ingredients
Serves 18 bear paws
1½ cups (375 ml) blanched almonds
2 cups (500 ml) icing sugar
½ tsp (2 ml) almond extract
5 cups (1.25 L) all-purpose flour, divided, plus extra for rolling surface
1½ cups (375 ml) cold butter, diced
1 × ¼ oz (7 g) package traditional active dry yeast
1¼ cup (310 ml) half and half cream (10%)
⅓ cup (75 ml) granulated sugar
½ cup (125 ml) sliced raw almonds
¼ cup (60 ml) coarse raw sugar
¼ cup (60 ml) plain full fat cream cheese, at room temperature
2 tbsp (30 ml) unsalted butter, softened
¾ cup (175 ml) icing sugar, sifted
1 to 2 tbsp (15 to 30 ml) milk
Instructions
To make FILLING: Combine almonds in a high-speed blender or food processor. Whirl until coarsely ground. Add remaining Filling ingredients and continue to whirl until blended, but almonds are still coarse. Remove to a container, cover and refrigerate until ready to use. Can be refrigerated for several days or up to a week.
To make DOUGH: In a food processor, combine 3 cups (750 ml) flour and the butter. Pulse just until mixture is slightly shaggy with pebbles of butter remaining. Refrigerate.
In a large bowl, combine remaining flour and yeast. Stir and set aside.
In a medium saucepan combine cream, sugar and salt. Heat just until it registers 125 F (52 C) on a thermometer. Add to large bowl containing flour and yeast along with 1 egg. Whisk until smooth. Then add refrigerated cold butter and flour mixture and stir in just until blended but not smooth. Dough will be very loose.
Generously flour a kitchen surface. Transfer dough to floured surface. With a floured rolling pin, roll out dough on floured surface into a 12 x 21-in (30 x 53 cm) rectangle. Taking the 12-in (30 cm) side, fold ⅓ of dough to centre. Repeat with other 12-in (30 cm) side forming a 7 x 12-in (18 x 30 cm) rectangle. Repeat rolling and folding two more times adding more flour as needed. Gently wrap in parchment and refrigerate for a minimum of 4 hours or until dough feels firm.
When dough is firm, place on a generously floured work surface and cut in half. Roll each half into a 12-in (30 cm) square. Cut each square into 4 x 12-in (10 x 30 cm) strips. Pipe equal amounts of filling down centre of each strip. Fold long edge of strips over filling and press cut edges together to seal.
Cut each strip into 4-in (10 cm) pieces. Using kitchen shears, cut three or four slits in each piece to within ½-in (1.25 cm) of folds. Place 1-in (2.5 cm) apart on parchment-lined baking sheets. Cover and set aside in a warm place for about 1 hour or until slightly puffed
Preheat oven to 375 F (190 C). In a measuring cup combine remaining egg with 1 tbsp (15 ml) water. Whisk to blend and brush over each pastry. Sprinkle with sliced almonds and raw sugar. Bake in oven for 18 to 20 minutes or until nicely puffed and golden. Remove to a rack to cool.
To make CREAM CHEESE DRIZZLE: While paws are cooling, prepare Cream Cheese Drizzle. In bowl of an electric mixer, combine cream cheese and butter. Beat until smooth. Beat in icing sugar and milk. Mixture should be thin enough to drizzle over baked paws.
Transfer to a piping bag or squeeze tube and pipe a thin zigzag drizzle over each Paw and serve.
Drink Pairings