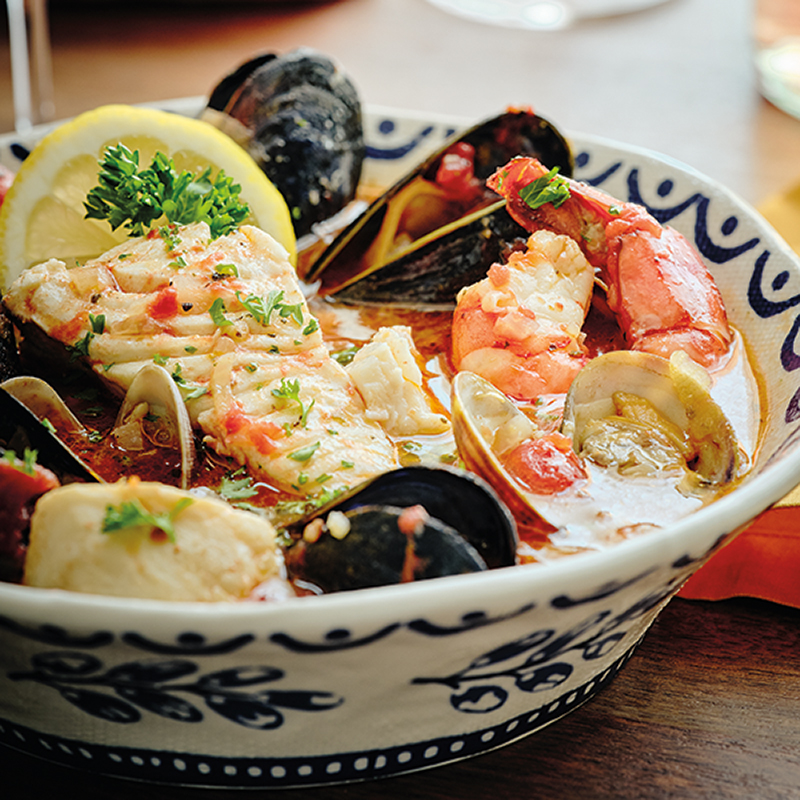 Cioppino
Brimming with fresh seafood in a tomato and wine broth that tastes like the sea, cioppino (pronounced cho-pee-no) is a delicious fish stew.
Ingredients
Serves 4 to 6
⅓ cup (75 ml) vegetable oil
½ cup (125 ml) chopped fennel (bulb only, reserve fronds for garnish)
1½ cups (375 ml) chopped onion
½ cup (125 ml) chopped celery
3 garlic cloves, minced or crushed
1½ cups (375 ml) dry white wine, divided
1 tsp (5 ml) dried oregano
¼ tsp (1 ml) pepper flakes, or to taste
1 x 796 ml (27 oz) can crushed or stewed tomatoes
1 cup (250 ml) clam juice
1½ lbs (750 g) boneless, skinless halibut fillets, cut into 2½-in (6.25 cm) chunks
12 large prawns, shelled (tail on) and deveined
salt and pepper, to taste
¼ cup (60 ml) finely chopped fresh parsley
1 to 2 tbsp (15 to 30 ml) lemon juice, to taste
parsley and lemon wedges or slices, for garnish
*Note: Fresh and uncooked clams and mussels should be closed. If not, then gently tap each one on counter and they should close immediately. Discard any that do not close.
Instructions
In large saucepan or Dutch oven, heat vegetable oil over medium-high heat until shimmering. Add fennel, onions and celery and cook until translucent, about 6 minutes.
Add garlic and continue cooking another 3 minutes, stirring regularly to avoid burning.
Add ½ cup (125 ml) wine and deglaze vegetables, until fully evaporated.
Add oregano, pepper flakes, tomatoes, clam juice, bay leaf and remaining wine and stir well. Reduce heat to medium-low, cover and simmer for about 20 minutes.
In steamer, boil water. Add clams, cover and steam for 5 to 6 minutes. Using tongs or a slotted spoon, carefully remove clams only and set aside in large bowl. Discard any unopened clams. Add mussels to steamer, cover and continue steaming for another 5minutes. Using tongs or slotted spoon, carefully remove steamed mussels into bowl with clams. Discard any unopened mussels.
Using a sieve, strain residual liquid to remove any sediments. Reserve up to 1½ cups (375 ml) liquid and discard remainder.
Add 1 cup (250 ml) of reserved liquid to simmering tomato mixture. Add more to desired taste and consistency, if needed. Evenly distribute halibut pieces into mixture. Cover and continue simmering for 5 minutes. Add prawns, steamed clams and mussels. Cover and continue simmering for 3 to 5 minutes.
Season with salt and pepper, to taste. Stir in chopped parsley and lemon juice. Turn off heat, cover and let the Cioppino rest for about 5 minutes before serving.
Serve with a wedge or slice of lemon and garnish with parsley, as desired.
Drink Pairings