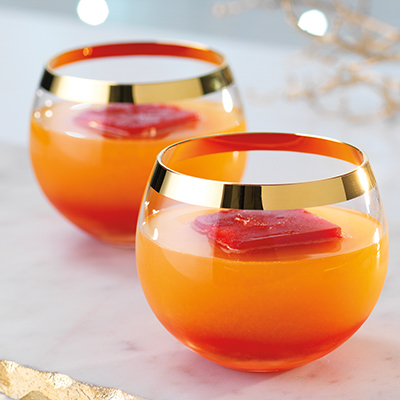 Ingredients
Serves 1
1½ oz (45 ml) Bombay Sapphire East London Dry Gin
3 oz (90 ml) mandarin juice
½ oz (15 ml) Simple Syrup, recipe follows
10 drops Orange Blossom Water*
1 large Frozen Strawberry Purée
Ice Cube, make ahead, recipe follows
Instructions
In a cocktail shaker with ice, combine all ingredients except for Frozen Strawberry Purée Ice Cube. Shake vigorously and strain into a rocks glass. Add Frozen Strawberry Purée Ice Cube and serve.
MAKE IT A MOCKTAIL: Prepare as directed above, omitting gin. Can top with soda water for a bit of bubble.
TO MAKE SIMPLE SYRUP: 1:1 ratio of sugar dissolved in boiling water. Allow to cool before using.
TO MAKE ICE CUBE: Clean and hull 1 lb (454 g) strawberries then purée. Pour strawberry purée into large ice cube tray and freeze for a minimum of 6 hours.
* Available in specialty stores.
Featuring