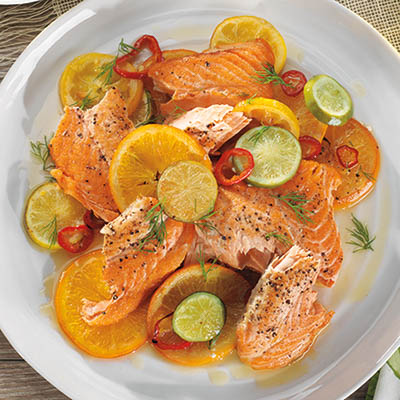 CITRUS-CHILI SALMON WITH ORZO SALAD
Ingredients
Serves 6
3 tbsp (45 ml) extra-virgin olive oil
2 tbsp (30 ml) balsamic vinegar
⅓ cup (75 ml) drained and chopped sundried tomatoes in oil
⅓ cup (75 ml) pitted, chopped kalamata olives
1 cup (250 ml) chopped radicchio
¾ cup (175 ml) chopped arugula
¼ cup (60 ml) chopped fresh basil
¼ cup (60 ml) chopped fresh parsley
2 green onions, finely sliced
salt and pepper, to taste
1 large navel orange, thinly sliced and seeds removed
1 Meyer lemon or regular lemon, thinly sliced and seeds removed
1 lime, thinly sliced and seeds removed
1 red jalapeño, thinly sliced into rounds
4 sprigs fresh dill, plus extra for garnish
2 tbsp + ½ cup (30 ml + 125 ml) olive oil, divided
salt and pepper, to taste
2 lbs (1 kg) skinless, centre-cut salmon fillet
Instructions
To make ORZO SALAD: Bring a large pot of salted water to a boil over high heat and cook orzo according to package directions. Drain well and transfer to a large bowl. While still warm stir in oil, vinegar, sundried tomatoes and chopped olives. Set aside to cool or refrigerate for up to 24 hours. Bring to room temperature before proceeding. Add radicchio, arugula, basil, parsley, garlic and green onions. Toss to combine before seasoning with salt and pepper, to taste. Refrigerate until ready to use, bring salad to room temperature before serving.
To make CITRUS-CHILI SALMON: Preheat oven to 275 F (140 C). Toss all citrus slices, jalapeño and dill sprigs in a 9 x 13-in (23 x 33 cm) baking dish and set aside.
Warm 2 tbsp (30 ml) oil in a large frying pan over medium-high heat until shimmering. Season salmon with salt and pepper before placing flesh-side-down into frying pan. Sear until lightly browned, about 1 minute. Remove and place, skin-side down on citrus mixture. Pour remaining ½ cup (125 ml) oil over top.
Bake until salmon is just cooked through, about 25 to 30 minutes depending on thickness of salmon fillet. To test, a paring knife should slide through easily and flesh should be opaque. Discard cooked dill sprigs.
To serve, transfer salmon to a platter and tear into portions with 2 forks. Spoon citrus mixture and oil from baking dish over fish. Season with extra salt and pepper and garnish with fresh dill sprigs. Serve family-style alongside Orzo Salad.
Drink Pairings