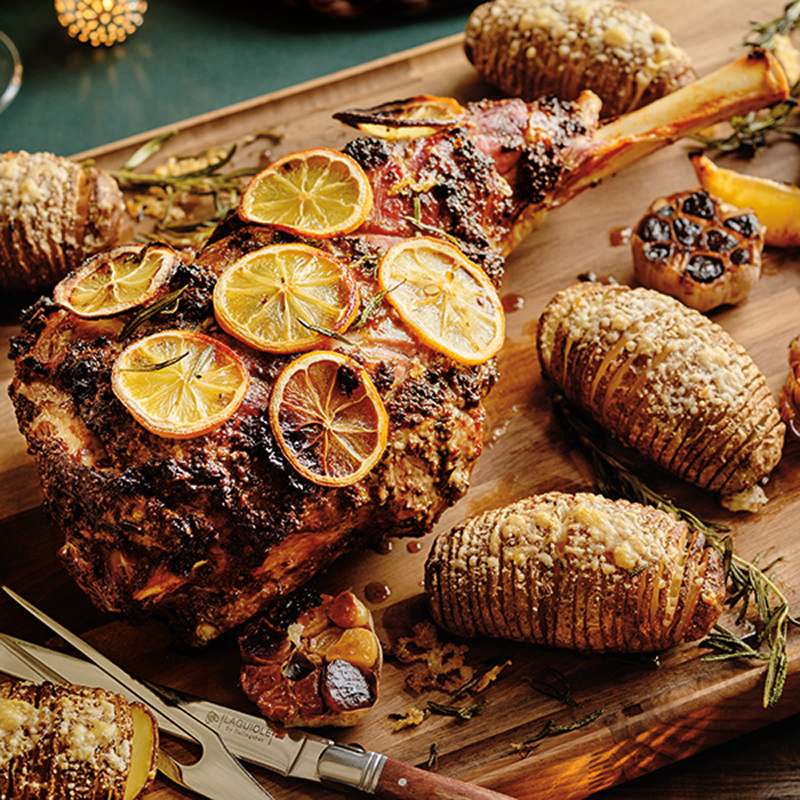 Citrus Garlic Roast Leg of Lamb served with Cheesy Hasselback Potatoes
Looking for an alternative to turkey? Here is a festive option for the star of the feast.
Ingredients
Serves 8
¼ cup (60 ml) + 3 tbsp (15 ml) extra-virgin olive oil, divided
4 sprigs thyme, leaves picked
2 sprigs rosemary, leaves picked
2 sprigs oregano, leaves picked
1 tbsp (15 ml) kosher salt
1 tbsp (15 ml) + 1 tsp (5 ml) freshly ground black pepper, divided
7 lbs (3.2 kg) bone-in leg of lamb
1 cup (250 ml) white wine
8 medium russet potatoes, cleaned
3 tbsp (45 ml) melted butter
2 tsp (10 ml) seasoning salt
½ cup (125 ml) ground Parmesan
Instructions
The night before serving, prepare lamb. In a small blender or food processor, add ¼ cup (60 ml) olive oil, 1 peeled head garlic, thyme, rosemary, oregano, anchovies, kosher salt and 1 tbsp (15 ml) black pepper. Blend until smooth.
Score a diamond pattern into fat layer of lamb, then rub herb paste all over. Place on a parchment-lined roasting pan, cover with plastic wrap and refrigerate overnight.
2 hours before roasting, remove lamb from refrigerator and set on counter, to bring lamb to room temperature. Meanwhile, cut remaining garlic heads in half. Slice 1 lemon and cut remaining lemons into wedges. Set garlic and lemons aside.
Preheat oven to 350 F (180 C). Remove plastic wrap from lamb and pour wine into roasting pan. Roast lamb for 18 minutes per pound. Meanwhile, prepare potatoes.
Place 2 chopsticks on either side of a potato, then cut potato into ¼-in (0.5 cm) slices. The chopsticks will prevent you from cutting potato all the way through. Repeat with remaining potatoes.
Place potatoes on a parchment-lined baking sheet. Mix together remaining olive oil, butter, seasoning salt and pepper. Brush each potato with butter mixture, making sure to get mixture between slices. Place potatoes in oven about 30 minutes into lamb roasting time.
After lamb has been roasting for 1 hour, place the lemon wedges and garlic halves cut-side down in pan. Arrange lemon slices on lamb.
After 20 minutes, place lemon wedges on lamb and brush with roasting juices. Continue roasting until internal temperature reaches 135 F (57 C), for medium.
Remove lamb from oven and let rest for 20 minutes. Turn oven up to 400 F (200 C). Bake potatoes for another 15 minutes, or until they are golden brown and crisp. Sprinkle Parmesan on potatoes and bake for another 5 minutes, or until cheese is melted and golden brown.
To serve, transfer lamb, garlic halves, lemon wedges and potatoes to a platter. Drizzle pan juices over lamb before serving. Squeeze lemon wedges over lamb before carving.
Drink Pairings