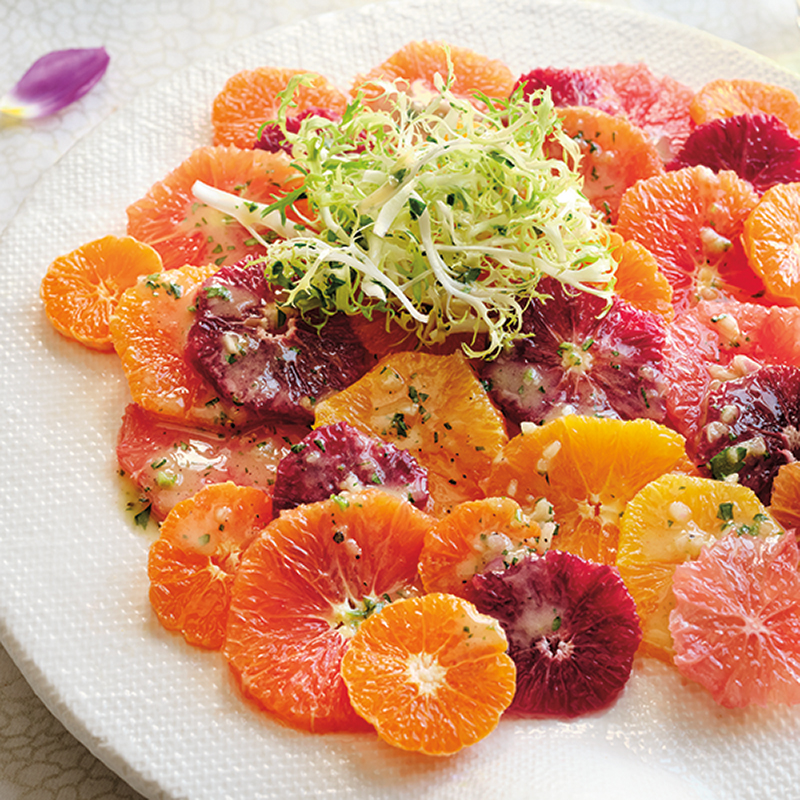 Citrus Salad with Vinho Verde Vinaigrette
Ingredients
Serves Serves 4 to 6
½ cup (125 ml) light olive oil
2 tsp (10 ml) finely chopped preserved lemon rind*
1 tbsp (15 ml) Dijon mustard
⅓ cup (75 ml) Vinho Verde
sea salt and freshly ground black pepper, to taste
2 tbsp (30 ml) finely minced shallot
1 tbsp (15 ml) finely chopped flat-leaf parsley leaves
2 blood oranges, peeled, white pith removed, thinly sliced into rounds
2 Cara Cara oranges, peeled, white pith removed, thinly sliced into rounds
2 small navel oranges, peeled, white pith removed, thinly sliced into rounds
1 ruby grapefruit, peeled, white pith removed, thinly sliced into rounds
1 small mandarin orange, peeled, thinly sliced into rounds
1 cup (250 ml) loosely packed frisée lettuce**
large handful flat-leaf parsley leaves, chopped, for garnish
* Can substitute ½ tsp (2.5 ml) finely grated lemon zest.
** Choose the delicate light yellow leaves for this salad.
Instructions
To make vinaigrette, in a medium tall-sided container, combine oil, preserved lemon, mustard, honey, Vinho Verde and salt and pepper, to taste. Using a handheld blender, process until combined and smooth. Add shallot and chopped parsley and stir to combine.
Arrange citrus slices and frisée on a large platter. To serve, drizzle salad with a little vinaigrette and season with salt and pepper to taste. Sprinkle with parsley and serve with extra vinaigrette on the side. Leftover vinaigrette can be stored in refrigerator in a covered container for up to 1 week.
Drink Pairings