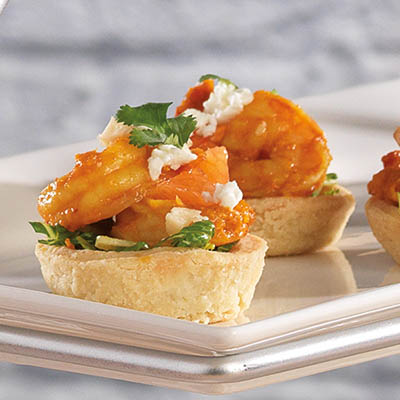 CITRUS SAMBAL PRAWN TARTS
Ingredients
Serves about 20 tarts
1¼ cups (300 ml) all-purpose flour
½ cup (125 ml) chilled unsalted butter, cut into cubes
1 tbsp (15 ml) cold water
1 tbsp (15 ml) minced fresh ginger root
1 tbsp (15 ml) minced lemon grass
2 Thai red chilies, stems discarded, finely chopped, including seeds
½ tsp (2 ml) ground turmeric
2 tsp (10 ml) light brown sugar
3 tbsp (45 ml) tomato paste
2 tbsp (30 ml) tamarind concentrate
¼ cup (60 ml) orange juice
2 tbsp (30 ml) coconut oil
1 lb (500 g) medium prawns, shelled and deveined, tails intact
1 orange, peeled, cut into segments, each segment cut into 4 pieces
2 cups (500 ml) shredded romaine lettuce
3 oz (90 g) crumbled goat's cheese, for garnish
3 tbsp (45 ml) cilantro leaves, for garnish
¼ cup (60 ml) roasted and chopped macadamia nuts, for garnish
Instructions
For tarts, in a food processor, pulse together flour and butter until mixture resembles coarse bread crumbs. Add water and pulse until dough begins to form a ball, taking care not to over-mix. Turn mixture out onto a work surface and press dough together. Form into a disk, wrap in plastic wrap and refrigerate for 20 to 30 minutes.
Meanwhile, preheat oven to 400 F (200 C).
Roll out chilled dough between 2 sheets of parchment or waxed paper to ⅛ -in (0.25 cm) thickness. Using a 2½-in (6 cm) round cookie cutter, cut 20 rounds of pastry and press into shallow tart pans or into wells of two muffin tins. Note that pastry will not come all the way up sides. Gather up and re-roll pastry, as needed, to make about 20 tart shells. Prick pastry shells with a fork, place on a baking tray and place in freezer for 15 minutes. Bake chilled tart shells until crisp and golden brown, about 10 to 15 minutes. Let cool for 15 minutes in tart pans before removing and cooling completely on a wire rack. Tart shells may be stored in an airtight container for up to 2 days.
In a small bowl, stir together shallots, garlic, ginger, lemon grass, chilies, turmeric, sugar, tomato paste, tamarind concentrate, orange juice and salt until well combined.
n a wok or large frying pan, heat coconut oil over medium-high heat. Add shallot mixture and stir-fry until fragrant, about 1 minute. Add prawns and continue to stir-fry until just cooked and sauce has thickened, about 3 minutes. Remove wok from heat and stir in orange pieces.
Just before serving, divide shredded lettuce among tart shells. Top each with a generous spoonful of Citrus Sambal Prawn, and garnish with a sprinkle of crumbled goat's cheese, cilantro leaves and macadamia nuts. Arrange on a serving platter and enjoy while shrimp are warm.
Drink Pairings