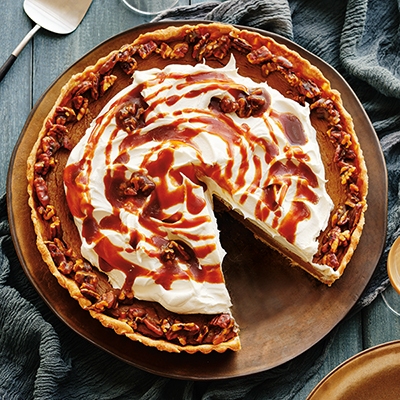 CLASSIC PUMPKIN TART WITH PECAN PRALINE TOPPING
Ingredients
Serves 8
½ cup (125 ml) + 2 tbsp (30 ml) all-purpose flour
¼ cup (60 ml) + 1 tbsp (15 ml) cold salted butter, cut into ½-in (1.25 cm) pieces
1½ tbsp (22 ml) very cold water
2 cups (500 ml) pumpkin purée (from a roasted sugar pumpkin, or canned)
¼ cup (60 ml) granulated sugar
1/3 cup (75 ml) dark brown sugar
1 large pinch fine sea salt
1½ tsp (7 ml) ground cinnamon
1½ tsp (7 ml) ground ginger
¼ tsp (1 ml) ground cloves
¼ tsp (1 ml) ground cardamom
½ tsp (2.5 ml) ground allspice
1½ cups (375 ml) whipping cream, chilled
½ cup (125 ml) packed dark brown sugar
1/3 cup (75 ml) cold salted butter, cut into large pieces
¼ cup (60 ml) whipping cream
1 tsp (5 ml) pure vanilla extract
¾ cup (175 ml) coarsely chopped toasted pecans
lightly sweetened whipped cream, to serve
Instructions
To make pastry, in bowl of small food processor, combine flour and butter and pulse until mixture has sandy texture, with largest pieces of butter the size of tiny peas. Add cold water and pulse until large clumps form and pastry just starts to form a ball around blade. Transfer dough to a work surface and knead a few times to bring together into a ball. Flatten into a disc, cover and refrigerate for at least 1 hour or up to 2 days.
On a lightly floured surface, roll dough out into a 12-in (30 cm) circle. Carefully transfer to a 10-in (25 cm) tart pan with a removable base. Gently ease dough into pan. Fold excess pastry over itself to double up edges of tart and pinch off any extra from top edge. Use any excess to patch areas if necessary, or discard. Freeze while preparing filling.
To make filling, preheat oven to 400 F (200 C). In a medium saucepan over medium heat, combine pumpkin, sugars, salt and spices. Bring to a low simmer and cook for 6 minutes, stirring frequently. Remove from heat and allow to cool in pan for 10 minutes. Add cold cream and whisk until smooth. Slowly add beaten eggs, whisking until mixture is well combined and smooth. Remove tart shell from freezer and place on a heavy baking sheet. Pour filling into crust. Carefully place tart in oven and bake for 15 minutes. Reduce heat to 325 F (170 C) and continue baking for another 30 to 40 minutes, or until centre is just set. A toothpick inserted into centre of tart should come out clean. Allow to cool completely.
To make topping, in a small saucepan over medium-low heat, combine sugar, butter and cream. Bring to a simmer and cook until thick and bubbly, 3 to 5 minutes. Remove pan from heat and stir in vanilla and pecans. Keep warm over lowest heat or reheat when ready to serve tart.
To serve, remove tart from pan, leaving it on metal base. Place tart back on baking sheet and reheat in a 325 F (170 C) oven for about 10 minutes, or until warmed through and pastry is crisp. Garnish edges of tart with pecan topping and top with whipped cream. Drizzle whipped cream with some of the warm pecan topping. Serve tart immediately with remaining pecan topping.
Drink Pairings