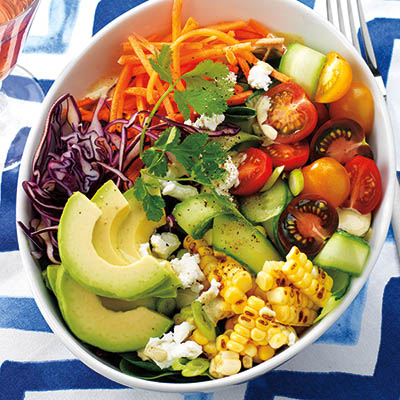 Ingredients
Serves 4
1 corn on the cob, husked
2 tbsp (30 ml) olive oil, divided
6 cups (1.5 L) mixed baby greens, such as spinach, romaine and bok choy
salt and freshly ground black pepper, to taste
1 cup (250 ml) cherry tomatoes, halved
½ cup (125 ml) shredded red cabbage
2 small, unpeeled cucumbers, shaved lengthwise
1 large carrot, peeled and julienned or grated
1 avocado, pitted and sliced
2 whole green onions, diagonally sliced
⅓ cup (75 ml) crumbled goat's cheese
½ cup (125 ml) full-fat plain Greek yogurt
¼ cup (60 ml) lightly packed cilantro leaves
1 garlic clove, smashed and minced
1 tbsp (15 ml) lime juice
1 tbsp (15 ml) tamari soy sauce
1 tbsp (15 ml) hot sauce such as Sriracha
1 tsp (5 ml) ground cumin
salt and freshly ground pepper, to taste
Instructions
To make SALAD: Lightly brush corn on the cob with olive oil. Sear in a grill pan or on a preheated barbecue until tender and charred. Remove and set aside until cooled.
In a large bowl, toss greens with 1 tbsp (15 ml) olive oil and sprinkle with salt and pepper to taste. Divide greens among 4 serving dishes. Cut corn from husk into chunks and arrange on greens along with remaining vegetables. Sprinkle with goat's cheese and drizzle with Spicy Yogurt Lime Sauce. Serve immediately.
To make SPICY YOGURT LIME SAUCE: Combine sauce ingredients in a food processor. Whirl until smooth and creamy. Add more hot sauce, salt and pepper, if desired. Transfer to a squeeze tube. Use immediately or refrigerate for a couple of days. Shake before using.
Drink Pairings