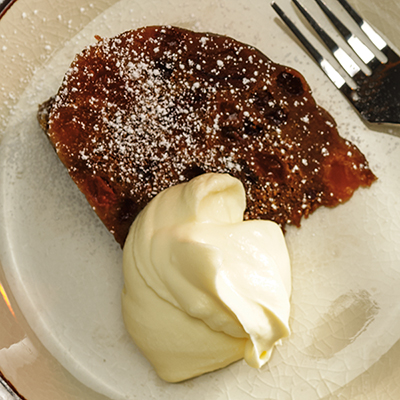 Clootie Pudding served with Drambuie Cream
Ingredients
Serves 12
2 cups (500 ml) all-purpose flour, plus extra for sprinkling
1 tsp (5 ml) ground cinnamon
1 tsp (5 ml) ground ginger
½ tsp (2.5 ml) ground nutmeg
¼ tsp (1 ml) ground cloves
¾ cup (175 ml) granulated sugar, plus extra for sprinkling
½ cup (125 ml) frozen, coarsely grated vegetable shortening
¾ cup (175 ml) yellow raisins
½ cup (125 ml) pitted and chopped Medjool dates
⅓ cup (75 ml) chopped dried apricots
1 medium Granny Smith apple, peeled and grated
1 tbsp (15 ml) fancy molasses
½ cup (125 ml) + 2 tbsp (30 ml) buttermilk
2 cups (500 ml) whipping cream
4 tsp (20 ml) icing sugar
Instructions
Bring a large pot of water to a boil.
Into a large bowl, sift flour, baking soda, spices and salt. With a wooden spoon, stir in sugar, frozen shortening, dried fruits and grated apple.
In a small bowl, whisk together molasses, egg and buttermilk. Stir wet mixture into dry mixture to form a stiff batter.
In a large bowl, pour some boiling water over a clean old pillowcase, a pudding cloth or a clean tea towel. Wearing rubber gloves to protect hands, remove it and carefully wring out as much water as possible. Lay it out flat on a clean work surface and sprinkle generously with flour and about 2 tbsp (30 ml) granulated sugar. Spoon pudding mixture onto centre of cloth, loosely bring up edges around mixture and secure tightly with a piece of kitchen string. Do not wrap cloth too tightly around batter, as it will expand during cooking.
Place a folded kitchen towel in a heatproof (preferably ceramic) bowl, large enough to accommodate pudding, in base of a large, deep saucepan. Place pudding in bowl, knotted side up. Pour in enough boiling water to just cover pudding. Cover with a tight-fitting lid, bring water to a gentle simmer and cook for 4 hours. Check water level often and top up if necessary.
Preheat oven to 350 F (180 C).
Lift pudding from saucepan and dip briefly in a large bowl of ice-cold water. Then remove cloth and place pudding on an ovenproof baking dish or platter. Bake for 15 minutes, until outside of pudding has dried off.
While pudding bakes, make Drambuie Cream. In a large bowl, whisk together cream and icing sugar until soft peaks form. Whisk in Drambuie. Cover and refrigerate until ready to use.
Serve pudding warm, cut into chunky wedges, with dollops of Drambuie Cream.
Drink Pairings