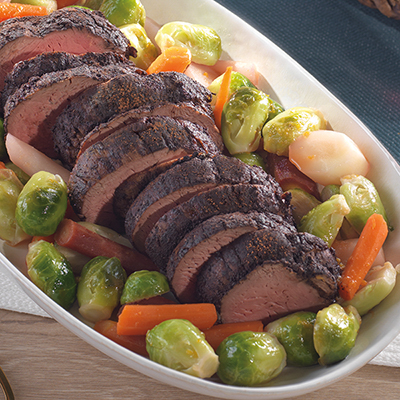 COCOA-KISSED BISON TENDERLOIN SERVED WITH ORANGE-GLAZED CARROTS AND BRUSSELS SPROUTS
Ingredients
Serves 6
1 x 2 lb (1 kg) bison tenderloin, tied
2 tbsp (30 ml) cocoa powder
1 tsp (5 ml) finely ground coffee
1 tsp (5 ml) salt, plus extra
3 tbsp (45 ml) grapeseed oil, divided
For ORANGE-GLAZED CARROTS AND BRUSSELS SPROUTS:
2 tbsp (30 ml) unsalted butter
4 large multi-coloured carrots, peeled and cut into 1-in (2.5 cm) chunks
4 cups (1 L) Brussels sprouts, trimmed and halved, if large
¼ cup (60 ml) orange juice
3 tbsp (45 ml) red wine vinegar
Instructions
Preheat oven to 250 F (130 C). While oven preheats, let bison rest at room temperature for 30 minutes.
In a small bowl, stir together cocoa powder, coffee and 1 tsp (5 ml) salt. Set aside.
Pat bison dry with paper towels before rubbing lightly with 2 tsp (10 ml) oil and sprinkling all sides generously with salt. In a large frying pan over medium-high heat, heat remaining oil. Sear bison on all sides until nicely browned, about 6 minutes total.
Transfer bison to a rack in a shallow roasting dish and coat with cocoa powder rub. Transfer to oven and roast until a meat thermometer inserted in centre reads 115 F (46 C), about 50 minutes. Turn oven off and return bison to oven to rest for 10 to 15 minutes more with door ajar. Final internal temperature of meat should read 125 F (52 C). Transfer bison to a carving board and let rest another 10 minutes. (This is a good time to make Carrot and Brussels Sprouts dish.)
To serve, carve bison into slices and serve alongside Orange-Glazed Carrots and Brussels Sprouts.
ORANGE-GLAZED CARROTS AND BRUSSELS SPROUTS:
In a large frying pan over medium-high heat, bring water and butter to a boil. Add carrots, cover with lid and continue to cook until almost tender, about 4 to 6 minutes. Add Brussels sprouts and continue to cook for another 2 minutes. Transfer vegetables to a plate.
To same pan, add orange juice, zest, vinegar and honey. Cook until reduced and syrupy, 2 to 5 minutes. Return vegetables to pan and toss in glaze. Remove from heat and keep warm until ready to serve.
Drink Pairings