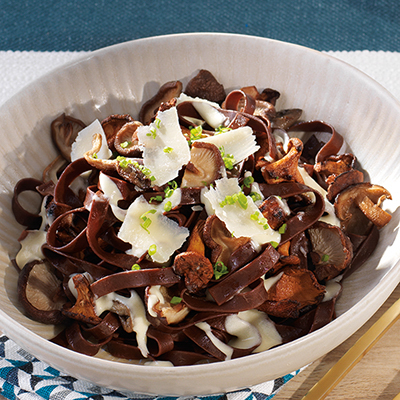 COCOA PASTA WITH WILD MUSHROOMS
Ingredients
Serves 4
1¾ cup (425 ml) all-purpose flour, plus extra for dusting
¼ cup (60 ml) raw cocoa powder, plus extra for dusting
½ tsp (2.5 ml) salt, plus extra
1 tsp (5 ml) extra-virgin olive oil
2 tbsp (30 ml) unsalted butter
1 tsp (5 ml) grapeseed oil
½ lb (250 g) mixed wild mushrooms, cleaned and halved or quartered if large
1 cup (250 ml) whipping cream
1 tsp (5 ml) fresh thyme leaves
¼ cup (60 ml) grated Parmesan, for garnish
1 tbsp (15 ml) chopped chives and/or fresh parsley leaves, for garnish
Instructions
To make pasta noodles, in a large bowl, sift together flour, cocoa powder and salt. Make a well in centre of dry ingredients and add eggs and olive oil. Using a fork, whisk together wet ingredients, slowly incorporating flour mixture. Once dough starts to come together, turn it out onto a clean, lightly floured work surface and continue to knead dough with hands until smooth and elastic. If dough is too dry, add water, 1 tbsp (15 ml) at a time. Gather dough into a ball, wrap with plastic wrap and set aside at room temperature for at least 30 minutes.
Once dough has rested, divide into 2 pieces. Working with 1 piece of dough at a time, roll out into a very long, thin strip of dough, at most an ⅛ inch (0.25 cm) thick, and cut into desired pasta shapes. Can do this by hand with a rolling pin and a sharp knife or using a pasta machine. Transfer rolled and shaped pasta to a baking sheet before dusting and tossing with extra cocoa powder to keep it from sticking. Set aside while making sauce.
To make sauce, bring a large stockpot of salted water to a boil.
In a large frying pan over medium-high heat, warm butter and grapeseed oil together. Add mushrooms along with a good pinch of salt and cook, stirring occasionally, until mushrooms start to turn golden brown, about 8 minutes. Stir in cream, white wine and thyme. Once at a simmer, reduce heat to low and allow sauce to continue simmering while cooking pasta.
Working in batches, if necessary, drop pasta into boiling water and cook until just shy of al dente. Timing will depend on size and shape of pasta, start checking after 1 minute. Transfer pasta directly into sauce. Don't worry if a little pasta water ends up in sauce as well. Increase heat under sauce to medium-high and toss to combine. If sauce is too thick, add a splash more of pasta cooking water. Divide among serving plates and garnish with Parmesan, chives and a light dusting of cocoa powder, if desired.
Drink Pairings