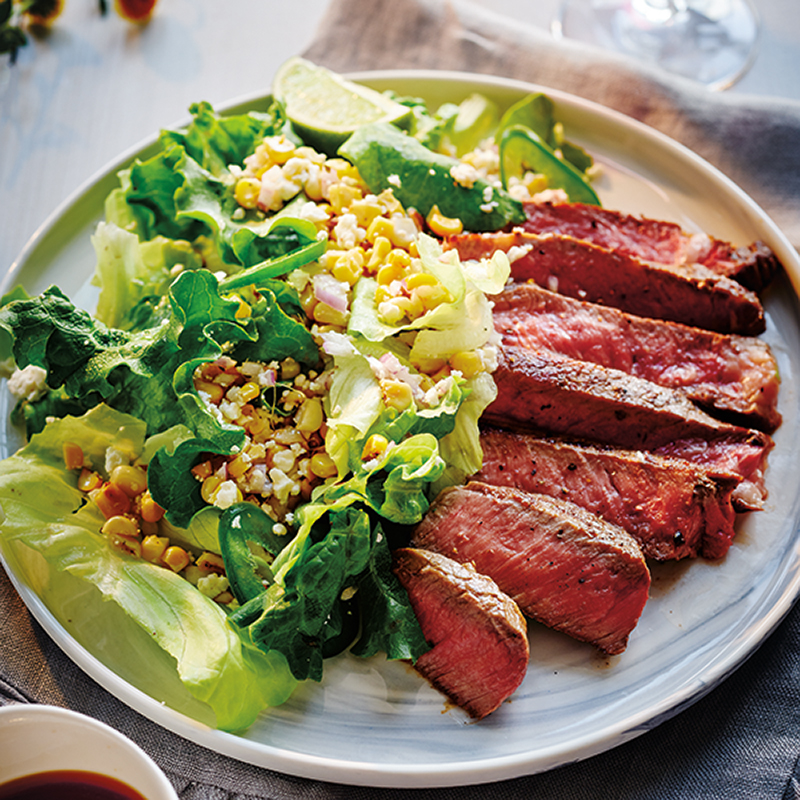 Ingredients
Serves 2
1 tsp (5 ml) cocoa powder
½ tsp (2.5 ml) smoked paprika
salt and pepper, to taste
1 lb (454 g) New York strip steak
2 tbsp (30 ml) olive oil, divided
4 cups (1 L) mixed greens of choice
¼ cup (60 ml) feta, crumbled
2 tbsp (30 ml) red onion, diced
1 tbsp (15 ml) canned chipotle sauce
Instructions
In a small bowl, combine cocoa powder, brown sugar, smoked paprika, garlic, salt and pepper. Coat steak evenly on all sides with spice rub.
In a large cast iron skillet, heat 1 tbsp (15 ml) oil over medium‑high heat. Add steak to pan and sear until browned, about 4 minutes. Add butter and flip steak. Tilt, pan towards you and spoon melted butter over steak a few times to baste. For medium‑rare, cook to an internal temp of 130 F (54 C), about 10 minutes. Allow steak to rest for 5 minutes, then slice into ¼-in (0.5 cm) thick slices.
In the same skillet, over medium heat, sauté corn kernels until browned and tender, about 5 to 8 minutes.
To make salad, in a large bowl combine cooked corn, mixed greens, feta and red onion.
To make salad dressing, in a separate small bowl, add chipotle, lime juice, honey and remaining olive oil. Mix to combine and season to taste with salt and pepper. Pour over salad and toss to coat. Serve alongside sliced steak.
Drink Pairings