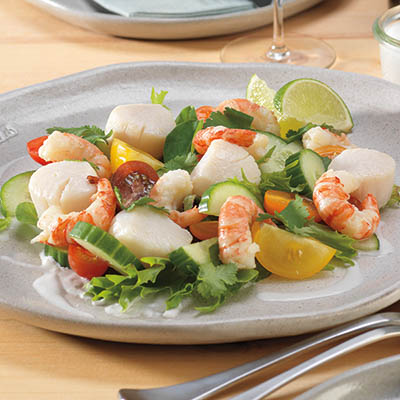 COCONUT LEMONGRASS SEAFOOD SALAD
Ingredients
Serves 4
½ stalk lemon grass, pounded
1 tbsp (15 ml) fish sauce
½ cup (125 ml) coconut milk
½ thai chili, minced (optional)
2 garlic cloves, peeled and crushed
2-inch (5 cm) piece of ginger, peeled and sliced
1 lb (500 g) spot prawns, heads and shells removed
1 lb (500 g) scallops, muscle removed
2 cups (500 ml) mixed greens
½ English cucumber, sliced
¼ cup (60 ml) cherry tomatoes, halved
¼ bunch cilantro leaves, roughly chopped
Instructions
To make DRESSING: In a medium-sized saucepan, add lemon grass, fish sauce, coconut milk and sugar.
Bring to a boil, then turn down heat and simmer for 5 to 10 minutes. Turn off heat and add chilli. Cool sauce. Once cooled, remove lemon grass and add lime juice. Set aside.
To make SALAD: Bring a medium-sized saucepan of water to a boil and add salt, garlic and ginger. Squeeze lime into water. Prepare a bowl of ice water and keep it by the pot.
Add prawns and turn heat down to low, the water should be at barely a simmer. Poach prawns just until they are cooked, about 45 seconds to 1 minute. Remove prawns and immediately put in ice bath. Once the prawns are cool, remove from ice water, drain and dry them.
Bring saucepan of water back to a boil and repeat process with scallops. They will take about 1 to 2 minutes, depending on the size of the scallops.
To assemble: Mix 1 tbsp (15 ml) dressing with prawns and scallops. Set aside. Pour a pool of the remaining dressing on your serving platter. Layer greens, cucumber and tomatoes over the dressing. Add prawns and scallops on the vegetables and garnish with cilantro.
Drink Pairings