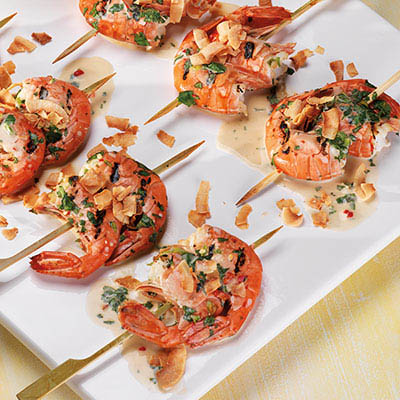 COCONUT LIME AND CHILI SPOT PRAWNS SERVED WITH COCONUT RICE
Ingredients
Serves 4 to 6
⅓ cup (75 ml) coconut milk
⅓ cup (75 ml) finely chopped fresh cilantro, plus extra for garnish
1 to 2 Thai red chilies, seeded and finely chopped
1 tbsp (15 ml) fish sauce
1½ lbs (750 g) large spot prawn tails, peeled, deveined
toasted coconut flakes, for garnish
Coconut Rice, to serve, recipe follows
2 cups (500 ml) jasmine rice
1 cup (250 ml) unsweetened coconut milk
toasted coconut flakes, for garnish
Instructions
Using a vegetable peeler, cut long strips of rind from lime. Juice the lime, reserving 1½ tbsp (22 ml), set aside.
In a bowl, mix together coconut milk, cilantro, garlic, chilies, fish sauce, soy sauce and lime rind. Place mixture into a resealable plastic bag and add prawns. Seal bag, mix well and refrigerate 3 to 4 hours to marinate.
Preheat a barbecue grill on medium-high heat. Add reserved lime juice to prawn mixture. Toss to coat. Remove prawns, reserving some marinade, and thread prawns onto skewers. Grill, brushing with reserved marinade, for 1 to 2 minutes each side, or until pink and lightly charred. Remove from grill, sprinkle with toasted coconut flakes and serve skewers with lime wedges, cilantro and coconut rice.
To make COCONUT RICE: Rinse and drain rice in cold water. Place rice in a saucepan with water, coconut milk and salt. Place saucepan over high heat and bring to a boil. Stir and reduce heat to lowest setting and cover pot tightly with lid. Continue cooking for 15 minutes. Remove from heat and let stand 10 minutes. Fluff with fork, garnish with toasted coconut flakes and serve.
Drink Pairings