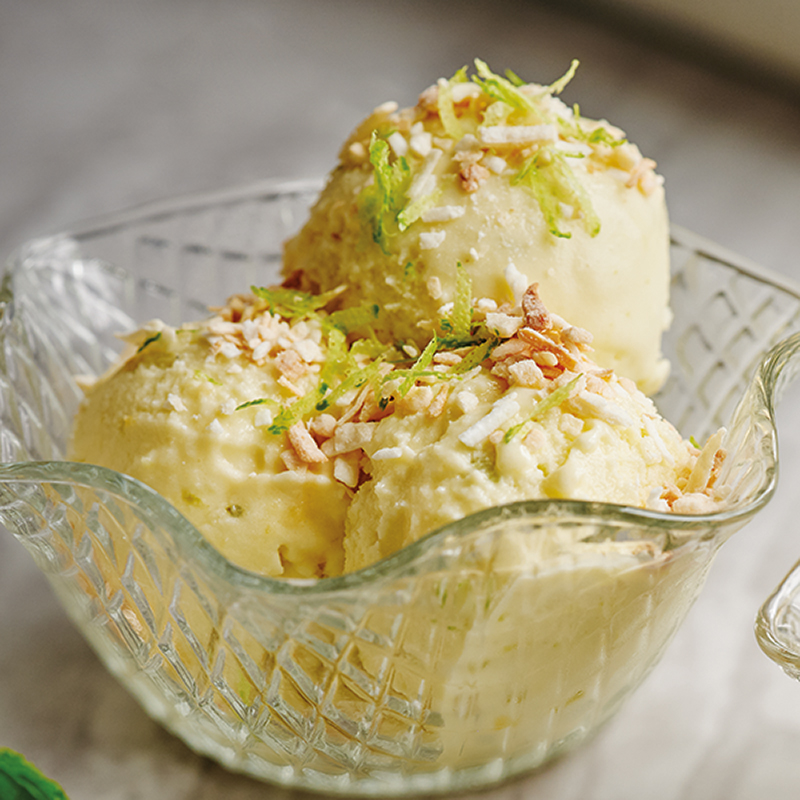 Coconut Lime Margarita Ice Cream
Ingredients
Serves about 4 cups (1 L)
1 cup (250 ml) shredded sweetened coconut
1 x 14 oz (398 ml) can full fat coconut milk
1 cup (250 ml) whipping cream
3 limes, zest and juice, divided
½ cup (125 ml) granulated sugar
4 large egg yolks (or 5 small)
¼ cup (60 ml) blanco tequila
toasted coconut, for garnish
salt, for rimming serving dishes (optional)
Instructions
Prechill ice cream bowl for minimum 12 hours.
Preheat oven to 350 F (180 C).
On a parchment-lined baking sheet, spread out coconut evenly. Toast until golden brown, about 3 minutes. Set aside to cool.
In a saucepan, heat coconut milk and cream over medium heat. Add zest from 3 limes. Mixture will steam, but don't allow to boil, then reduce heat to low.
In a separate bowl, add sugar and egg yolks. Mix well to combine.
Ladle 2 cups (500 ml) of warmed cream into egg-yolk mixture and whisk. Add remaining cream to egg yolks and return to saucepan. Over low heat, cook until mixture has thickened enough to coat back of a spoon, about 8 to 10 minutes. Remove from heat and place in a container. Cool mixture in refrigerator for about 6 hours.
Once ice cream base has chilled, add lime juice and tequila and pour mixture into ice cream machine. Turn on for 20 minutes or until ice cream has set. Remove from machine and store overnight in an airtight freezer container with a lid.
Garnish with toasted coconut and serve with lime zest and salt rim, if using.
Drink Pairings