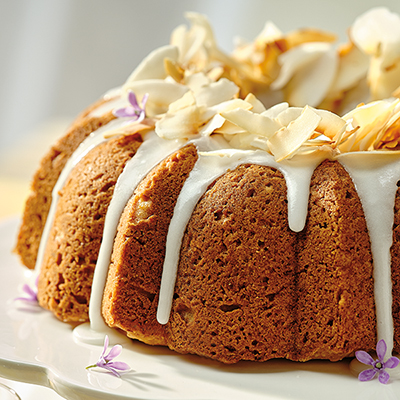 Coconut Orange Bundt Cake
Ingredients
Serves 12
1 cup (250 ml) unsalted butter, plus extra for greasing
2½ cups (625 ml) all-purpose flour, plus extra for dusting
¾ cup (175 ml) unsweetened shredded coconut
1¼ cup (310 ml) granulated sugar
2 navel oranges, organic if possible (Oranges are blended whole, so use organic or wash well)
2 tsp (10 ml) baking powder
1½ cups (375 ml) icing sugar
2 tbsp (30 ml) + 2 tsp (10 ml) coconut milk
½ tsp (2.5 ml) finely grated orange zest
Instructions
In a small saucepan, melt butter over medium heat. Whisk butter constantly until it smells nutty and brown specks start to form on bottom of saucepan. Remove from heat and carefully pour browned butter into a small bowl, scraping bottom of saucepan to collect any browned solids. Set aside to cool to room temperature.
Meanwhile, preheat oven to 325 F(170 C). Grease a 10-cup (2.4 L) Bundt pan and dust with flour. Set aside.
Place coconut on a baking tray and toast in oven until golden brown and fragrant, about 6 to 8 minutes. Set aside.
In bowl of a stand mixer fitted with paddle attachment, cream together browned butter and granulated sugar until fluffy, about 5 minutes. Beat in eggs 1 at a time.
Trim ends of oranges and discard. Cut oranges into chunks and remove seeds before placing in a food processor, peel and all, fitted with steel blade attachment. Pulse until mostly smooth but not completely puréed. Measure out 1½ cups (375 ml) orange purée and add to batter along with ½ cup (125 ml) toasted coconut. Combine until well blended, then sift in 2½ cups (625 ml) flour, salt, baking soda and baking powder. Beat until just combined, with no flour pockets. Pour batter into prepared pan and smooth top with offset spatula or spoon.
Bake until risen and a wooden skewer inserted into centre comes out with just a few crumbs clinging to it, about 55 to 60 minutes. Cool in pan on a wire rack for 10 minutes, then invert cake onto rack and allow to cool to room temperature.
Once cooled, make glaze. In a medium bowl, whisk together icing sugar, coconut milk and orange zest. Adjust consistency to taste, adding more icing sugar for a thicker glaze or more coconut milk for a thinner glaze. Spoon on top of cake and sprinkle with remaining ¼ cup (60 ml) toasted coconut. Allow to set at room temperature for 15 to 30 minutes before slicing and serving.
Drink Pairings