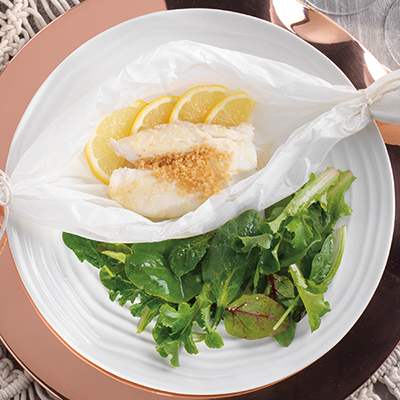 Ingredients
Serves 2
1 tbsp (15 ml) miso paste
1 tsp (5 ml) ginger, grated
2 x 3 oz (90 g) cod fillets
Instructions
Preheat oven to 375 F (190 C).
In a small bowl, mix together miso, butter, honey and ginger. Set aside.
Place each cod fillet on a square of parchment. Dab butter mixture evenly on each piece of fish. Fold parchment paper over fish and, beginning at one corner, make small overlapping pleats all the way around to seal edges completely.
Bake until fish is cooked through, about 12 to 15 minutes, depending on thickness of fish. Cut open papillotes and serve alongside a mixed green salad.
Drink Pairings