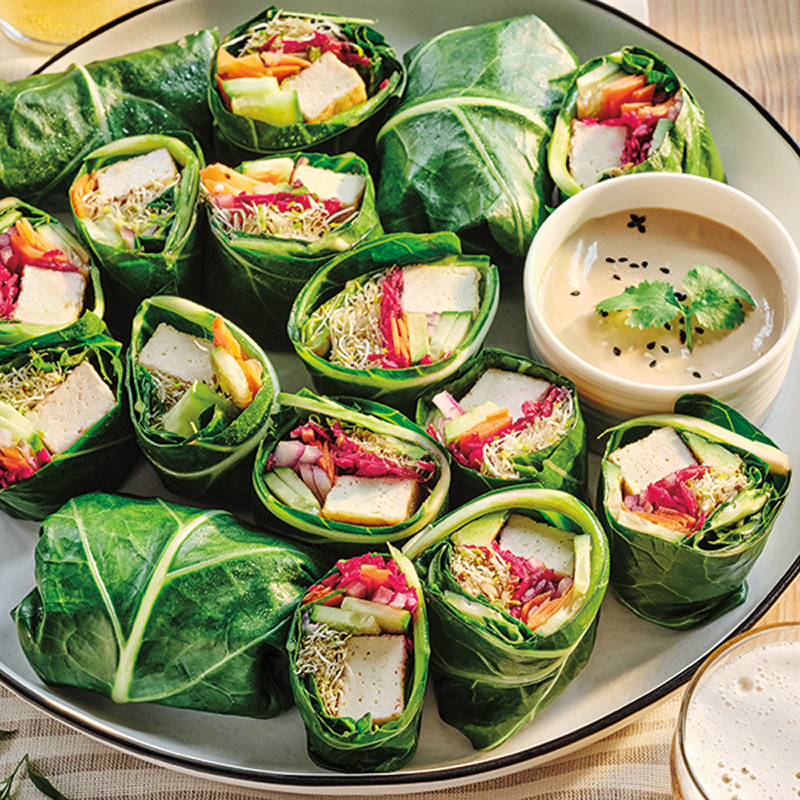 Collard Green Tofu Wraps served with Tahini Sauce
Ingredients
Serves Serves 2 to 3
1 tbsp (15 ml) sesame oil
5 garlic cloves, minced, divided
1 tbsp (15 ml) minced ginger
2 tbsp (30 ml) sweet chili sauce*
¼ cup + 1 tbsp (75 ml) soy sauce, divided
3 tbsp (45 ml) water, divided, plus extra as needed
1 x 16 oz (500 g) package firm tofu
2 tbsp (30 ml) cornstarch
2 tbsp (30 ml) grapeseed oil, divided
2 medium carrots, peeled into ribbons
1 cup (250 ml) julienned cucumber
1 cup (250 ml) cilantro leaves
1 cup (250 ml) bean sprouts
¼ red onion, thinly sliced
1 tbsp (15 ml) rice wine vinegar
8 to 10 large collard green leaves
Instructions
Preheat oven to 425 F (220 C). Line a baking sheet with parchment paper.
In a saucepan over medium heat, heat sesame oil. Add 4 minced garlic cloves and ginger and cook for 3 minutes, until fragrant. Add chili sauce, ¼ cup (60 ml) soy sauce and 1 tbsp (15 ml) water. Reduce heat to low and cook for another 5 minutes, until slightly thickened. Set garlic-ginger sauce aside.
Cut tofu into 3-in (8 cm) long rectangles. Place tofu in a medium bowl and sprinkle with cornstarch, tossing to coat. Drizzle 1 tbsp (15 ml) grapeseed oil onto lined baking sheet. Arrange tofu evenly on baking sheet and drizzle with remaining 1 tbsp (15 ml) oil. Bake for 10 to 15 minutes, or until bottom of tofu is golden brown, then flip and bake for another 10 minutes. Remove from oven and transfer to a clean mixing bowl. Add desired amount of reserved garlic-ginger sauce and toss to coat. Transfer to a platter with carrot, beet, cucumber, cilantro, bean sprouts, red onion and avocado.
To make a tahini dipping sauce, in a small bowl, whisk together remaining 1 minced clove garlic, 1 tbsp (15 ml) soy sauce, remaining 2 tbsp (30 ml) water, tahini, rice wine vinegar and honey. For a thinner sauce, whisk in more water, 1 tbsp (15 ml) at a time, until sauce reaches desired consistency. Set aside.
Prepare an ice bath and set aside. In a large pot, bring 8 cups (2 L) water to a boil. Working in batches, blanch collard leaves for 15 to 20 seconds each, until just tender. Immediately remove and place in ice bath.
Once cooled, trim collard green stems. Lay a collard leaf on a flat surface. Starting from the middle of the leaf, with knife parallel to the cutting board, thinly shave the stem towards the base of the leaf, then cut off any remaining stem at the base. This is to remove some of the bulky, fibrous stem to make for easier, more pliable wrapping.
To assemble, place a collard leaf on a flat surface. In the middle of the leaf, place a piece of tofu, a few carrot ribbons, some shredded beet, and a bit of cucumber, cilantro, sprouts, red onion and avocado. Fold two opposite sides in towards the centre, then, starting from one of the "open" sides, roll up the wrap like a burrito. Repeat with remaining ingredients.
To serve, cut wraps in half and serve with tahini sauce alongside for dipping.
Drink Pairings