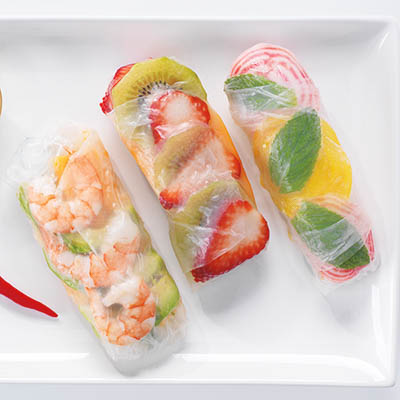 COLOURFUL VEGETARIAN SALAD ROLLS WITH MISO MUSTARD SAUCE
Ingredients
Serves 8 rolls
1 tsp (5 ml) prepared Japanese or Chinese-style hot mustard or Coleman's Hot mustard
⅓ cup (75 ml) white (Saikyo) miso
3 tbsp (45 ml) rice vinegar
2 oz (60 g) dried bean vermicelli noodles
8 X 8-inch (20 cm) rice-paper rounds, plus more in case of tearing
8 to 12 tinned, baby corn, drained and halved lengthwise
24 thinly sliced colourful heirloom radishes (watermelon, purple etc)
½ cup (125 ml) shredded colourful carrot (purple, yellow or orange)
½ English cucumber, cored seeded and cut into 1/4-inch (0.5 cm) matchstick
1 small red onion, peeled and thin sliced julienned
48 cilantro sprigs, about 1 bunch, cleaned and dried well
48 mint leaves, from about 1 bunch
Instructions
To make Miso Mustard Sauce, add water, hot mustard, miso, rice vinegar, mirin, and sugar to a mixing bowl and whisk until smooth. Set aside.
Bring a medium saucepan of water to a boil and add noodles. Cook until just tender, about 3 minutes. Drain in strainer and rinse under cold water. Drain well. Set aside.
Place a clean tea towel or a double thickness of paper towel on a work surface. Fill a shallow baking pan with warm water. Soak a rice paper round in warm water until pliable, about 5 to 10 seconds. Carefully transfer to tea towel or paper towel lined work surface.
Arrange a couple of the baby corn, cut side up, on the middle bottom third of the round, then cover overlapping slightly 3 of thin sliced radishes, then add a small amount of shredded carrot. Cover with a small amount of the noodles. Drizzle a couple teaspoons of the miso mustard sauce, then top with some of the shredded carrot, cucumber matchsticks, julienned red onion and a few cilantro sprigs and mint leaves in a row across bottom third (the part nearest you).
Fold bottom of rice paper over filling and begin rolling up tightly, stopping at halfway point. Arrange a few more mint leaves, cilantro sprigs, then fold in ends and continue rolling.
Transfer roll, seam side down, to a plate and cover with dampened paper towels. Repeat making 7 more rolls in the same manner.
Drink Pairings