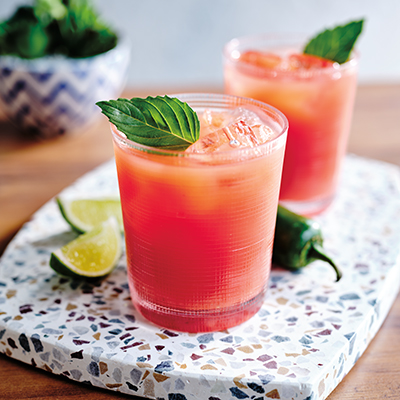 Ingredients
Serves 3 to 4
2 to 3 slices fresh jalapeño, or to taste
13½ oz (400 ml) freshly squeezed orange juice
7½ oz (225 ml) tomato juice
4 oz (120 ml) freshly squeezed lime juice
½ tsp (2.5 ml) freshly ground black pepper
1½ oz (45 ml) Espolòn Reposado Tequila*
basil leaf or jalapeño slice, for garnish
Instructions
To make a sangrita mix, in a bowl, muddle jalapeño slices. Stir in juices, grenadine, salt and pepper. Strain out jalapeño and transfer to a sealed container. Can be stored in refrigerator for up to 1 week.
In a rocks glass with ice, combine tequila and/or mezcal with 3 oz (90 ml) sangrita mix and stir. Garnish with a basil leaf or jalapeño slice.
* For a smoky version, substitute tequila with 1 oz (30 ml) Sombra Mezcal. For a lighter smoke accent, use ¾ oz (22 ml) tequila and ¾ oz (22 ml) mezcal.
Featuring