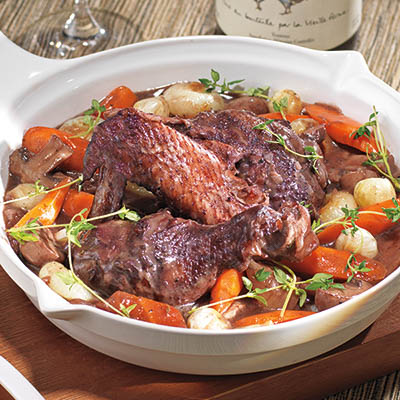 Ingredients
Serves 4
1 large roasting chicken, cut into 8 pieces (2 legs, 2 thighs and 2 breasts, cut on diagonal with wings attached)
1 large onion, peeled and diced
3 shallots, peeled and chopped
3 to 4 heirloom carrots, scrubbed well and cut into ½-in (0.5 cm) thick slices (cut on bias)
2 large garlic cloves, peeled
1 tsp (5 ml) freshly ground pepper
1 bottle (750 ml) rich red Burgundy wine
3 tbsp (45 ml) olive oil, divided
2 tbsp (30 ml) unsalted butter, divided
5 oz (140 g) thick-cut smoked bacon, cut into ½-in (1.25 cm) dice
½ lb (250 g) medium mushrooms, halved
2 tbsp (30 ml) all-purpose flour
16 to 24 pearl onions or 12 cipollini onions, peeled
1 tbsp (15 ml) red wine vinegar
1 tbsp (15 ml) unsweetened cocoa powder
MASHED PARSNIPS AND POTATOES WITH CHIVES:
1½ lbs (750 g) Yukon Gold potatoes
3 tbsp (45 ml) finely chopped chives
1 pinch freshly ground pepper
Instructions
Place chicken pieces in a large, wide bowl. Add onion, shallots, carrots, garlic, salt, pepper, cloves, bay leaves, thyme and red wine. Mix well with hands, cover bowl with plastic wrap and refrigerate for at least a day, up to 2 days, turning chicken once or twice.
Remove chicken from marinade, blot dry with paper towels. Strain marinade through a fine mesh strainer set over a bowl, saving vegetables and herbs as well as wine.
In a large casserole or Dutch oven, over medium-high heat, heat 2 tbsp (30 ml) of olive oil and 1 tbsp (15 ml) of butter. Cook chicken pieces in a single layer until brown on one side, about 5 minutes, then other side for another 5 minutes. Transfer chicken to a platter.
Cook bacon with mushrooms until bacon is crisp. If browned bits stick to bottom, add a splash of red wine marinade and scrape bits into the mixture.
Add reserved strained vegetables and herbs to pot and cook until vegetables are tender. Stir flour into vegetables and add chicken back into pot along with reserved strained wine marinade. The wine should come up almost to top of chicken pieces. If not, add a little chicken stock, water or red wine. Cover and let chicken simmer over medium heat for 1 hour.
While chicken is cooking, heat remaining olive oil and butter in a saucepan over medium heat. When butter is melted, add pearl onions and sauté until browned. Season. Add water and vinegar and simmer for about 30 minutes, until tender. Add onions, along with their liquid to chicken mixture.
In a small bowl, mix together cocoa with ⅓ cup (75 ml) of warm cooking liquid from Dutch oven. Stir into sauce and mix well. Cook for a few minutes more to warm through and serve with Mashed Parsnips and Potatoes with Chives.
To make MASHED PARSNIPS AND POTATOES WITH CHIVES: Peel parsnips and cut crosswise into ½-in (1.25 cm) thick pieces. Peel potatoes and cut into 1-in (2.5 cm) chunks. Place parsnips and potatoes in a medium saucepan, cover with water, add salt and bring to a simmer. Reduce heat, cover and cook for 10 minutes or until fork-tender. Strain and return parsnips and potatoes to warm saucepan. Cover and let steam in heat of saucepan for 10 minutes.
Mash parsnips and potatoes. Do not over mash or they will become gluey. Add butter and season. Blend until well mixed. Stir in chopped chives and season to taste.
Drink Pairings