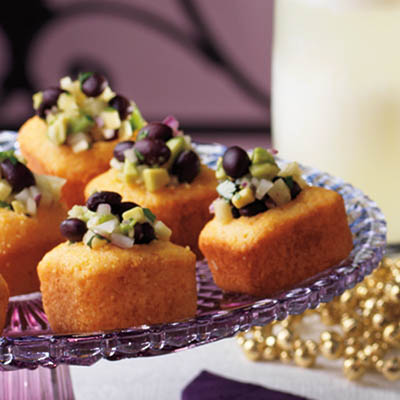 CORNBREAD STUFFED WITH PINEAPPLE, AVOCADO AND BLACK BEAN SALSA
Ingredients
Serves 40
¾ cup (175 ml) yellow cornmeal
1¼ cups (310 ml) all-purpose flour
1 tbsp (15 ml) baking powder
⅓ cup (75 ml) granulated sugar
1 tsp (5 ml) each, salt, paprika
¾ cup (175 ml) whole milk
½ cup (125 ml) unsalted butter, melted and cooled
PINEAPPLE, AVOCADO & BLACK BEAN SALSA:
1 cup (250 ml) black beans, canned
¼ pineapple, peeled, cored and diced
1 avocados, peeled, pit discarded and diced
¼ cup (60 ml) small red onion, diced
1 tbsp (15 ml) lime juice
½ jalapeño, seeds removed and diced, optional
3 tbsp (45 ml) fresh cilantro leaves, chopped
salt and pepper, to taste
Instructions
Preheat the oven to 350 F (180 C). Grease mini muffin tins or squares of a brownie bite pan with cooking spray and set aside.
In a large bowl, Whisk together cornmeal, flour, baking powder, sugar, salt and paprika.
In a separate bowl, beat eggs with a whisk until well combined. Whisk in honey and milk. Add wet mixture and melted butter to dry ingredients stirring until just blended together. Take care not to over mix – a few lumps are fine. Place a heaping spoonful of batter into each cup of the prepared pan. Bake for 10 to 12 minutes, or until puffed and golden brown. Cool cornbread bites in pan before removing.
Using a teaspoon, make a well in each bite by carving out some cornbread from the top. Fill well with Pineapple, Avocado & Black Bean Salsa. Transfer to serving platter and serve bites warm or at room temperature.
To make PINEAPPLE, AVOCADO & BLACK BEAN SALSA: In a large bowl, combine all ingredients and season with salt and pepper to taste. Refrigerate until ready to serve or make up to one 1 day in advance.
Drink Pairings