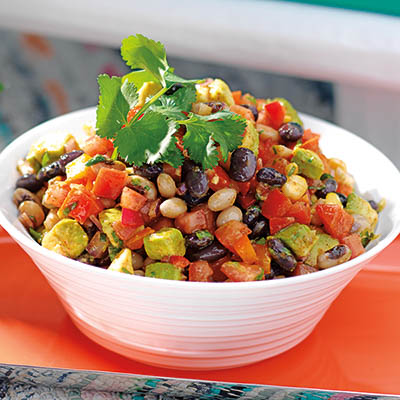 Ingredients
Serves 4 cups (1 L)
½ tbsp (7 ml) clover honey or granulated sugar
1 tbsp (15 ml) white wine vinegar
½ tsp (2 ml) chipotle chili powder
¼ tsp (1 ml) ground cumin
¼ tsp (1 ml) salt, plus extra to taste
½ lb (250 g) Roma tomatoes, seeded and diced
¾ cup (175 ml) canned black-eyed peas, rinsed and drained
¾ cup (175 ml) canned black beans, rinsed and drained
½ cup (125 ml) fresh or thawed frozen corn kernels
¼ cup (60 ml) diced red onion
½ Fresno or jalapeño pepper, seeded and diced
¼ cup (60 ml) diced red bell pepper
¼ cup (60 ml) diced orange bell pepper
1 avocado, pitted, peeled and diced
½ cup (125 ml) finely chopped cilantro
Instructions
In a medium bowl, whisk together oil, honey, vinegar, chili powder, ground cumin and salt. Set aside.
In a large bowl, with a rubber spatula, fold together tomatoes, black-eyed peas, black beans, corn kernels, red onion, Fresno pepper, red and orange bell peppers, avocado and cilantro.
Pour dressing over bean mixture and gently fold together until well combined. Set aside at room temperature at least 30 minutes before serving. May also be covered and refrigerated up to 4 hours before serving. Serve chilled or at room temperature. Best served the same day it is made.
Delicious with crackers or tortilla chips, you can also try this salsa over grilled haloumi cheese, roasted salmon or grilled chicken, pork or beef.
Drink Pairings