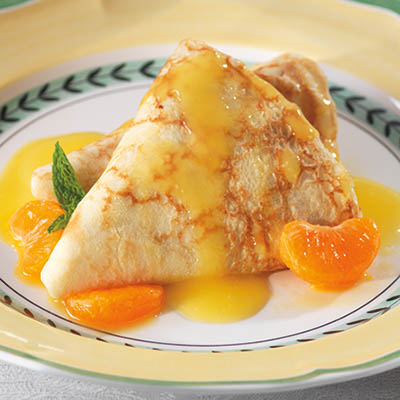 CRÊPES WITH ORANGE LIQUEUR SAUCE
Ingredients
Serves 2
1 cup (250 ml) whole milk
1 cup (250 ml) all-purpose flour
3 tbsp (45 ml) melted unsalted butter, plus extra for pan
1 cup (250 ml) fresh orange juice
2 tbsp (30 ml) granulated sugar
1 tsp (5 ml) finely grated orange zest
¾ cup (175 ml) chilled unsalted butter, cut into small cubes
¼ cup (60 ml) orange liqueur such as Grand Marnier, Triple Sec or Cointreau
1 orange, peeled and segmented for garnish
Instructions
Combine milk, flour, eggs, water, melted butter and salt in blender and process until smooth, about 5 seconds. Transfer to covered container and refrigerate for 2 hours, up to 2 days.
Heat an 8-in (20 cm) non-stick frying pan or crêpe pan over medium heat until hot, about 3 minutes. Brush bottom and sides of pan very lightly with melted butter. Butter should sizzle. Remove pan from heat, tilt pan slightly and pour 2 tbsp (30 ml) batter into pan (or enough batter to cover bottom of pan). As batter is poured, rotate pan to swirl batter evenly over bottom before returning it to heat. Cook until underside is spotty and golden brown, about 30 seconds. Flip and cook about 30 seconds longer. Transfer crêpe to a cooling rack. Repeat with remaining crêpe batter, brushing pan with butter as needed.
To make sauce, in a saucepan, bring orange juice, sugar and orange zest slowly to a boil. Continue to boil mixture, stirring occasionally, until liquid becomes syrupy.
Whisk in cold butter, piece by piece, until smooth. Remove pan from heat and add liqueur to taste. Serve immediately or keep warm no more than 30 minutes before use.
To serve, place 3 crêpes on a plate, garnish with orange segments and drizzle with sauce.
Note: If making crêpes ahead, layer parchment paper between each crêpe and wrap in plastic wrap. Refrigerate for up to 3 days or double wrap and freeze for up to 1 month.
Drink Pairings