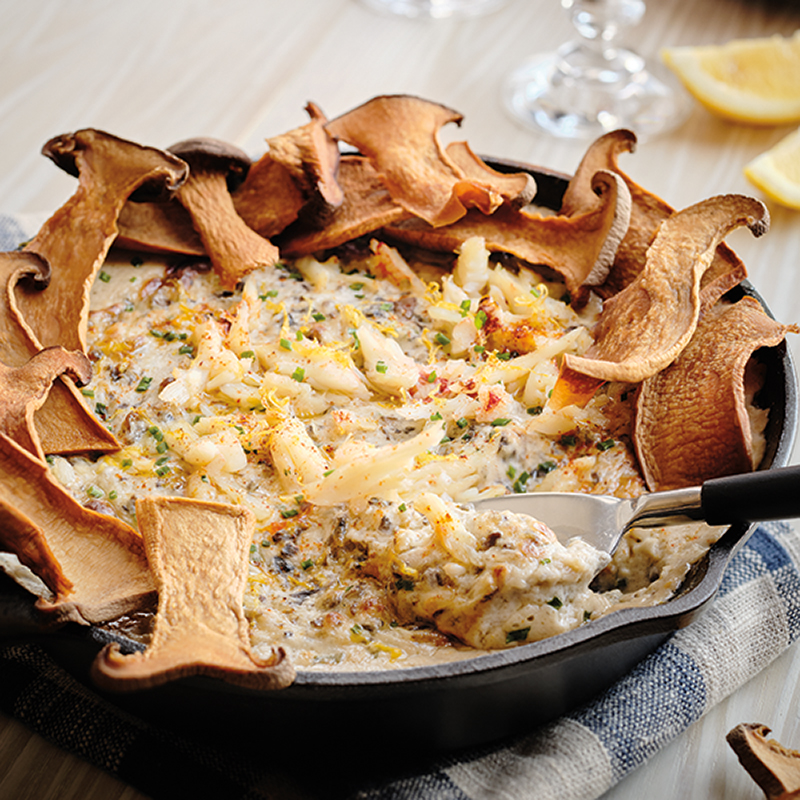 CRAB & MUSHROOM DIP SERVED WITH MUSHROOM CHIPS
Perfect for the holidays, game day and beyond!
Ingredients
Serves 6 to 8
3 cups (750 ml) finely chopped button mushrooms
3 tbsp (45 ml) extra-virgin olive oil
salt and pepper, to taste
8 oz (250 g) cream cheese, softened
1 cup (250 ml) sour cream, room temperature
1 cup (250 ml) shredded fontina* cheese, divided
1 tsp (5 ml) Tabasco sauce
1 cup (250 ml) cooked crab meat, picked apart and divided
4 green onions, thinly sliced
¼ cup (60 ml) grated Parmesan
1 lb (500 g) king oyster mushrooms, cut into ⅛-in (0.25 cm) slices
Instructions
In a skillet over medium heat, warm olive oil and butter. Add shallot, garlic and mushrooms and cook until well done and all excess liquid has evaporated, about 15 to 20 minutes. Season with salt and pepper and set aside to cool.
In a small saucepan over medium-high heat, warm 2-in (5 cm) vegetable oil until it reaches 325 F (170 C). Fry oyster mushrooms in batches until golden brown, about 5 to 8 minutes per batch. Remove and drain on paper towel and season with salt.
Preheat oven to 350 F (180 C). Mix mushrooms, cream cheese, sour cream, ¾ cup (175 ml) fontina, lemon juice, green onions, paprika, Tabasco and ¾ cup (175 ml) crab until combined. Transfer to a small oven-safe baking dish. Top the dip with remaining fontina and Parmesan. Bake, until dip is heated through, bubbling and golden brown, about 25 to 30 minutes. Remove from oven and let cool slightly, then garnish with remaining crab, chives and lemon zest. Top with mushroom chips for dipping. Serve remaining mushroom chips in a separate bowl.
*Possible substitutes include Gruyère, provolone, Gouda or Emmental.
Drink Pairings