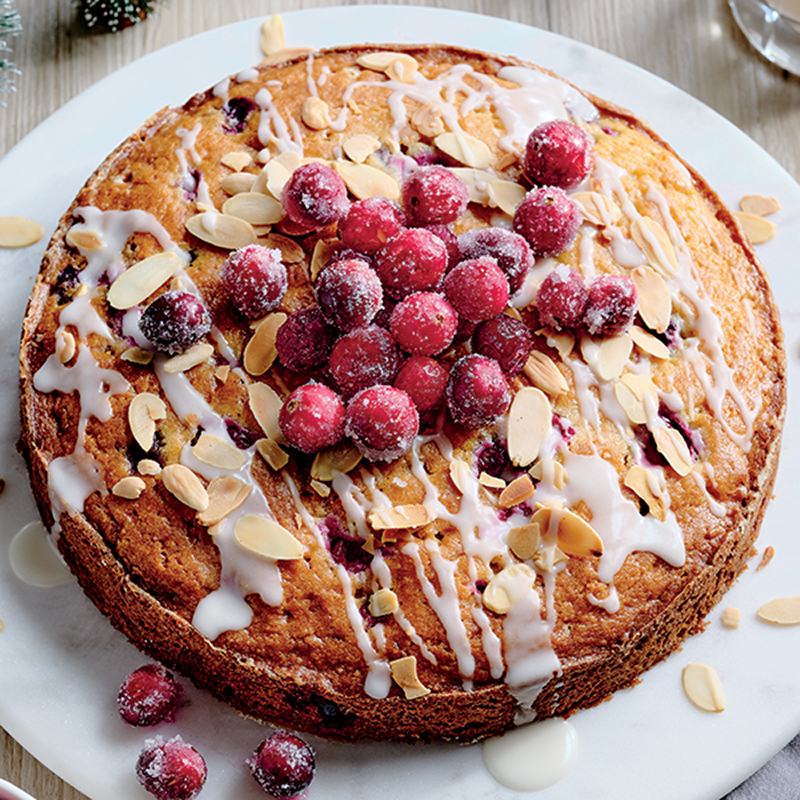 Cranberry Almond Ginger Cake
Ingredients
Serves 8
7 tbsp (105 ml) salted butter, room temperature
⅔ cup + 1 tbsp (150 + 15 ml) white sugar, divided
⅔ cup (150 ml) sour cream
1 tsp (5 ml) vanilla extract
1 tsp (5 ml) almond extract
½ cup (125 ml) almond flour
¼ cup (60 ml) diced candied ginger ed candied ginger
1½ cups (375 ml) cranberries, divided, thawed if frozen
1 tbsp (15 ml) lemon juice
1 tbsp (15 ml) Disaronno Amaretto liqueur or water
⅔ cup (150 ml) icing sugar
½ cup (125 ml) toasted sliced almonds
Instructions
Preheat oven to 350 F (180 C). Grease a 9-in (23 cm) springform cake pan and line bottom with parchment paper. Set aside.
In a large bowl, cream together butter and ⅔ cup (150 ml) sugar with an electric mixer on high speed until light and fluffy, about 4 minutes. Add eggs, sour cream, milk, vanilla and almond extract. Mix for 1 minute to incorporate and set aside.
In a separate bowl, mix together flour, almond flour, baking soda and baking powder. Add these dry ingredients to egg mixture and mix to combine. Gently fold in candied ginger and 1 cup (250 ml) cranberries.
Pour batter into prepared cake pan and bake for 35 to 45 minutes, or until a toothpick inserted into center comes out clean. Let cool completely.
Place remaining 1 tbsp (15 ml) sugar in a small bowl. Add remaining ½ cup (125 ml) cranberries and roll in sugar to coat.
In another small bowl, mix together lemon juice, amaretto and icing sugar and stir until a thick glaze forms. Drizzle over cooled cake and top with sugared cranberries and sliced almonds.
Drink Pairings