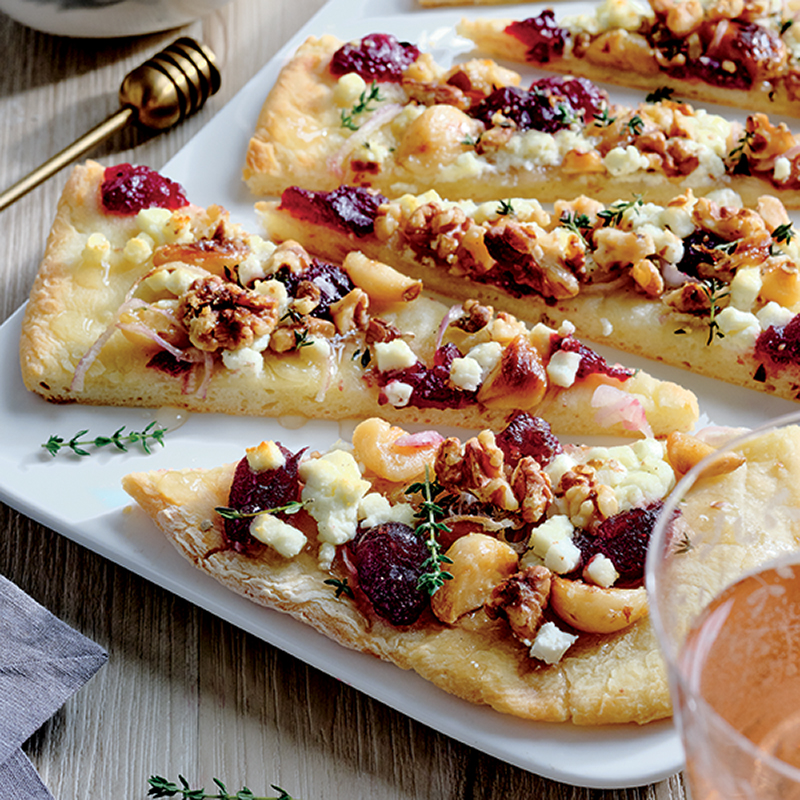 Cranberry Flatbread with Honey & Goat's Cheese
Ingredients
Serves 4-6
16 oz (500 g) pre-made pizza dough
15 to 20 roasted garlic cloves
1 cup (250 ml) crumbled goat's cheese
½ cup (125 ml) raw walnut pieces
½ cup (125 ml) canned cranberry sauce
5 sprigs thyme, leaves only
salt and pepper, to taste
Instructions
Preheat oven to 350 F (180 C). Line a baking sheet with parchment paper.
Place pizza dough on a clean, floured surface. Using a rolling pin, roll out dough in any shape you desire to a ¼-in (0.5 cm) thickness. Transfer to lined baking sheet and bake for 5 to 8 minutes, or until cooked but not browned.
Arrange garlic, shallot, goat's cheese and walnuts evenly over entire surface of flatbread. Dollop 1 tsp (5 ml) spoonfuls of cranberry sauce over surface. Bake for another 10 minutes, or until golden brown and bubbling. Sprinkle with thyme, olive oil and honey. Season with salt and pepper, slice and serve immediately.
Drink Pairings