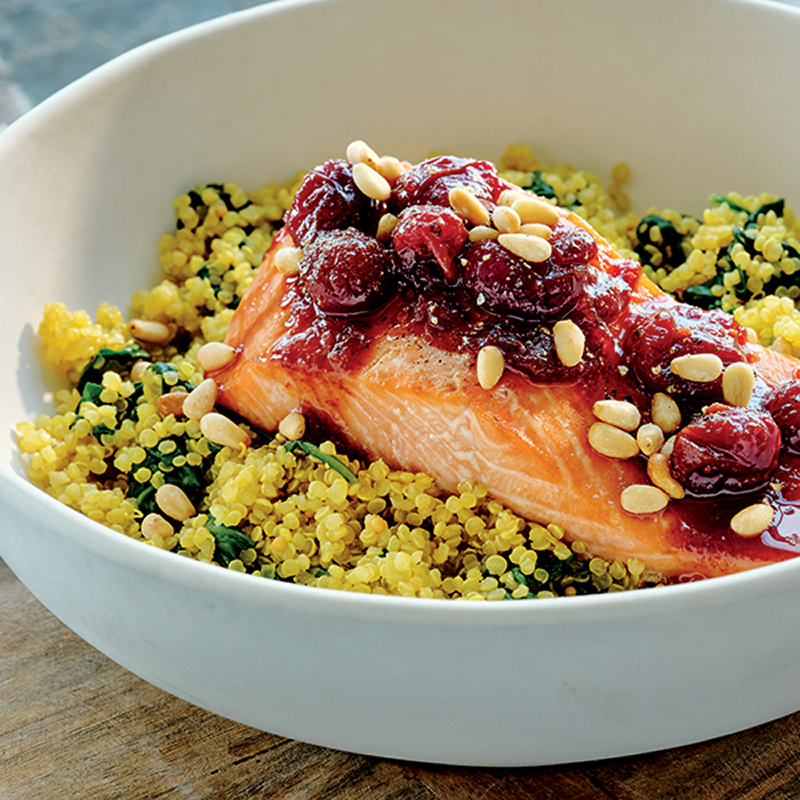 Cranberry-Glazed Steelhead Trout served with Garlic & Spinach Quinoa
Ingredients
Serves 4
⅓ cup (75 ml) liquid honey
⅓ cup (75 ml) low-sodium soy sauce
¼ cup (60 ml) cranberry juice
2 tbsp (30 ml) rye whiskey
½ tsp (2.5 ml) ground cumin
½ tsp (2.5 ml) smoked paprika
3 garlic cloves, minced, divided
kosher salt and freshly ground black pepper, to taste
4 x 6 oz (170 g) steelhead trout fillets
1 tbsp (15 ml) unsalted butter
1 small yellow onion, finely chopped
½ tsp (2.5 ml) yellow mustard seed
¼ tsp (1 ml) turmeric (optional)
1 cup (250 ml) quinoa, well rinsed and drained
5 cups (1.25 L) packed baby spinach
1 cup (250 ml) fresh cranberries
¼ cup (60 ml) toasted pine nuts, for garnish (optional)
Instructions
Preheat oven to 400 F (200 C). Line a rimmed baking sheet with parchment paper and set aside.
In a small bowl, whisk together honey, soy sauce, cranberry juice, whiskey, cumin, paprika, 2 minced garlic cloves and a good pinch of salt. Place trout in a large zip-top bag and add about half the marinade, reserving the other half for step 5. Seal bag and lightly shake to coat fish in marinade. Refrigerate for at least 15 minutes and up to 2 hours.
Meanwhile, make Garlic & Spinach Quinoa. In a large saucepan, melt butter over medium heat. Add onion and cook, stirring often, until softened, about 4 minutes. Add remaining minced garlic clove, mustard seed and turmeric, if using. Cook, stirring constantly, until mustard seeds start to pop, about 1 minute. Add quinoa and cook, stirring constantly, for 30 seconds. Add water and bring to a boil. Reduce heat to medium-low, cover and let simmer until water is fully absorbed, about 16 to 20 minutes. Remove saucepan from heat and immediately stir in spinach and lemon zest. Season to taste with additional salt. Set aside and keep warm.
Remove trout from marinade and place in a single layer on prepared baking sheet. Season lightly with salt and pepper. Discard marinade from bag. Transfer to oven and roast until cooked to your liking, about 10 to 12 minutes.
Meanwhile, make Cranberry Glaze. In a small saucepan, combine reserved marinade with cranberries. Bring to a strong simmer over medium-high heat, then reduce heat to medium-low and simmer, stirring often, until cranberries have all popped and mixture has reduced to a glaze consistency, about 5 to 8 minutes.
To serve, divide Garlic & Spinach Quinoa between serving plates. Top with trout fillets and drizzle some glaze over each. Garnish with toasted pine nuts, if using, and enjoy.
Drink Pairings