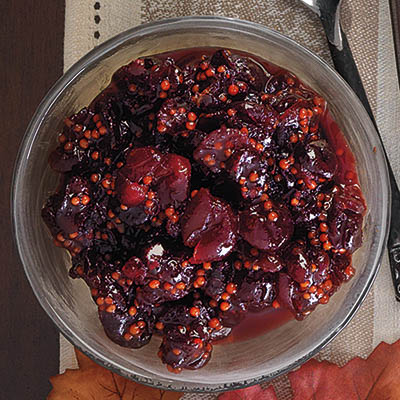 Ingredients
Serves about 2 cups (500 ml)
2½ tbsp (37 ml) yellow mustard seeds
¾ cup (175 ml) dry rosé wine
½-in (1.25 cm) piece fresh ginger root
1½ cups (375 ml) granulated sugar
1 cup (250 ml) white wine vinegar
¾ cup (175 ml) pure cranberry juice, no sugar added
1 tbsp (15 ml) dry mustard
1 cup (250 ml) fresh or frozen cranberries
1½ cups (375 ml) dried cranberries
1 tsp (5 ml) finely grated tangerine zest
Instructions
In a small bowl, stir together mustard seeds and wine. Cover with plastic wrap and set aside overnight.
In a piece of cheesecloth, wrap together cinnamon, ginger, cloves and thyme. Tie closed with kitchen string.
In a medium-sized saucepan over high heat, stir together soaked mustard seeds and wine, sugar, vinegar, cranberry juice, dry mustard and fresh or thawed, frozen cranberries. Once boiling, add spice bundle and reduce heat to medium. Cook, uncovered, without stirring, until syrup thickens enough to coat back of a spoon, 40 minutes. Turn off heat but leave saucepan on element. Discard spice bag before stirring dried cranberries, tangerine zest and salt into syrup. Cool Mostarda completely before serving. If too thick, loosen by stirring in water or rosé wine, 1 tbsp (15 ml) at a time, until desired consistency. Mostarda may be refrigerated in an airtight container for up to 1 week.
Drink Pairings