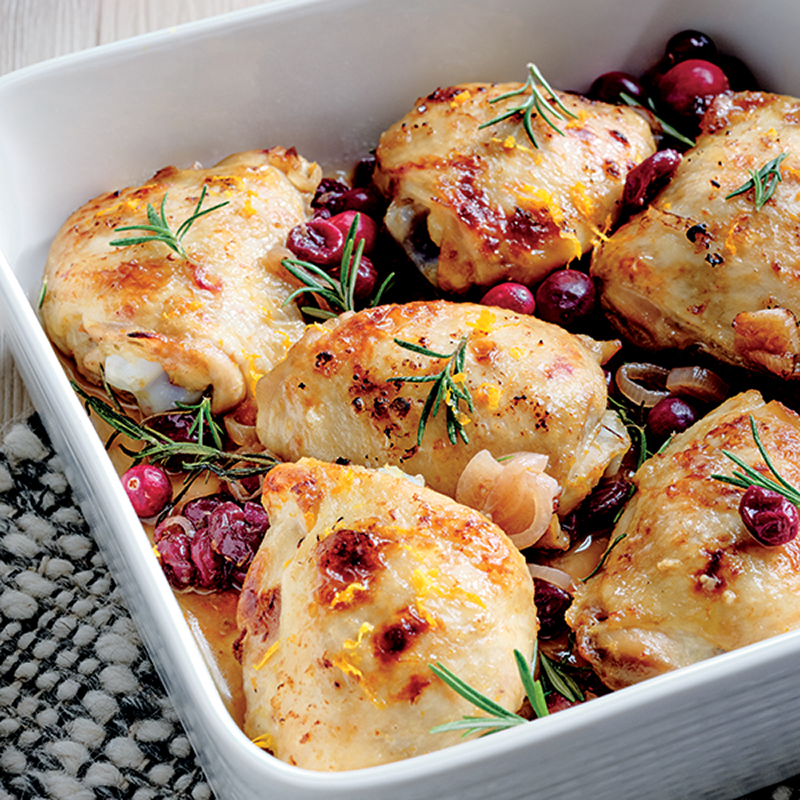 Cranberry & Orange Chicken Thighs
Ingredients
Serves 4
2 tbsp (30 ml) maple syrup
2 tbsp (30 ml) white balsamic vinegar or balsamic vinegar
½ tbsp (7.5 ml) Dijon mustard
8 bone-in, skin-on chicken thighs
3 whole sprigs fresh rosemary
1 cup (250 ml) cranberries, thawed if frozen
salt and pepper, to taste
2 tbsp (30 ml) unsalted butter
Instructions
In a large zip-top bag, combine orange zest and juice, maple syrup, vinegar, Dijon, garlic, shallot and olive oil. Add chicken, rosemary and cranberries. Season with salt and pepper and marinate for at least 6 hours, or overnight.
Preheat oven to 400 F (200 C).
Place chicken skin side up in an even layer in a 9 x 13-in (23 x 33 cm) casserole dish. Pour marinade from bag into dish. Divide butter into small pats and place evenly on top of each chicken thigh. Bake for 20 minutes, or until a meat thermometer inserted into thickest part of chicken reads 165 F (74 C), and chicken is golden brown. For extra-crispy skin, broil on high for 2 or 3 minutes to finish.
Drink Pairings